Process to Convert & Import Cone Mail to Outlook 2019, 2016, 2013, 2010, 2007
Know how to import Cone Mail to Outlook without losing attachments. Proper steps are given for conversion of Cone Mail and import of files in Outlook
Basic Intro to Cone Mail:
Cone Mail is a text based email client used to read and send email messages on UNIX-based systems. It is also considered as console newsreader and mailer that can handle multiple POP3, IMAP accounts and local mail folders.
Cone Mail email client support Unix-like Operating Systems and was developed by Courier Mail Server Developers on May 2003 with 0.50 versions. Its notifying features include support to Unicode (Computing Industry Standard) and SMAP (Simple Mail Access Protocol).
Supported File Formats, Its Default Location In Cone Mail Client
Cone Mail stores all mailbox files in two file formats i.e. Maildir or Mailbox files (MBOX). When a user sets MBOX files as default, Cone client fails to read the system mailbox file directly. All email messages stored in system mailbox get transferred to $Home/Inbox, that can be further used to view messages of system mailbox. Running Cone first time on MBOX based system spontaneously copies all emails from system mailbox file to the $Home/Inbox.
Procedure To Convert Cone Mail To Outlook
Due to different email clients and compatibility issues, the process to convert Cone mail to PST requires professional help. One need to rely on third-party tools to convert Cone mail database to MS Outlook. MBOX to PST converter for Mac and Windows is perfect solution that provides facility to convert Cone mail to Outlook PST file. Some of its features are:
Convert Cone Mail emails without losing Attachments
No Data Loss
Merge all Cone mailboxes into one or simply create a PST file for each Cone mailbox
No need for Outlook to run the Cone Mail Converter
Preview Cone data before conversion
Batch and Selective conversion options available
It is possible to use the PST files converted from Cone mailboxes in Outlook 2019, 2016, 2013, 2010, 2007 & 2003.
The steps to import Cone Mail to Outlook PST are:
Step 1: Download & Start Cone to Outlook Converter.
Step 2: Add the Cone Files with Add File/Folder button.
Step 3: Preview Emails before Cone to PST conversion with attachments.
Step 4: Choose Destination Location & Export Cone Mail to Outlook.
Note: Copy the identity folder containing Cone mailboxes from your Unix system and transfer it to Windows. Then, follow above or below written steps to convert Cone Mail to Outlook PST.
1. Download and install software in machine and click on Add File button on the welcome screen.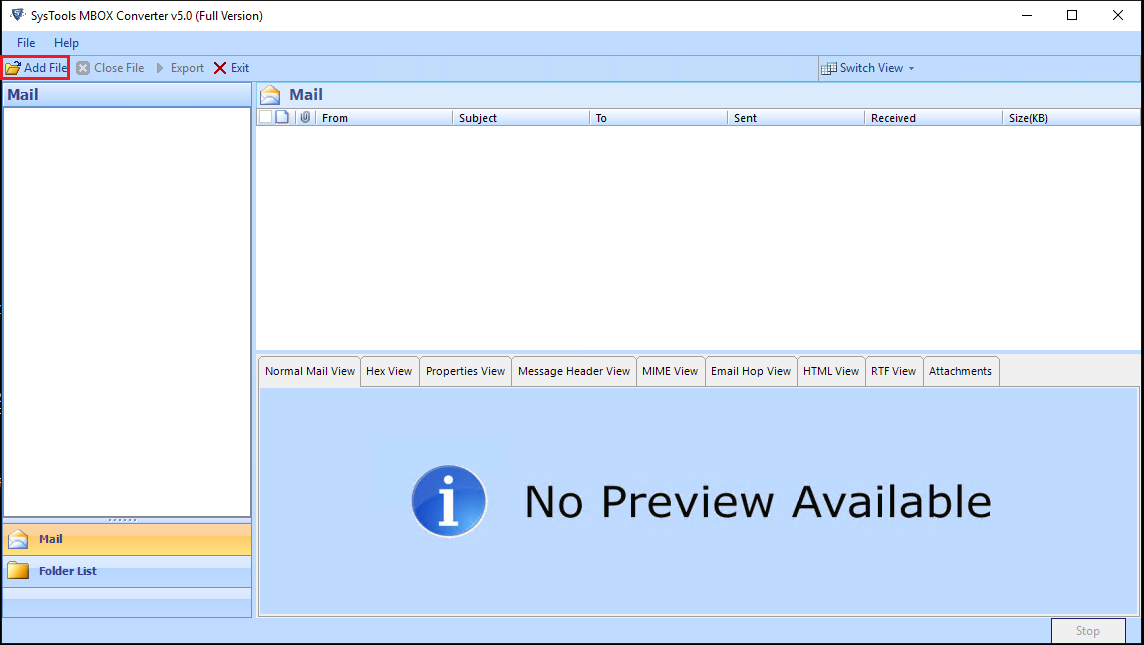 2. Select MBOX files from system to start the process of converting database from Cone mail to Outlook PST. Users can either browse single MBOX file or can add folder that contains multiple MBOX files.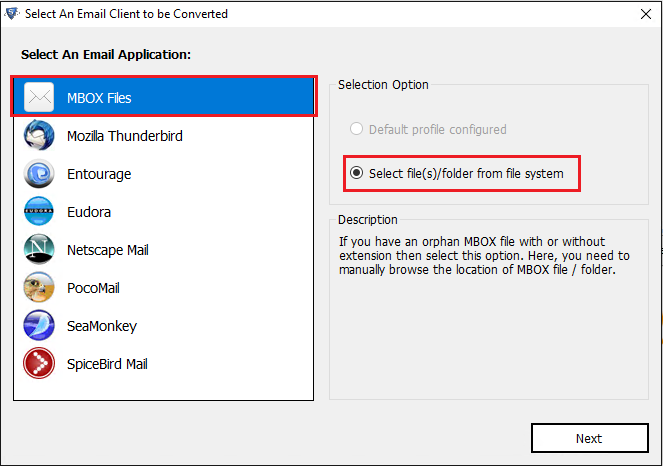 3. As soon as you add MBOX file with tool, scanning of files starts automatically and users can preview all Cone emails with details. Once taken preview of all data, click on Export button from the menu bar.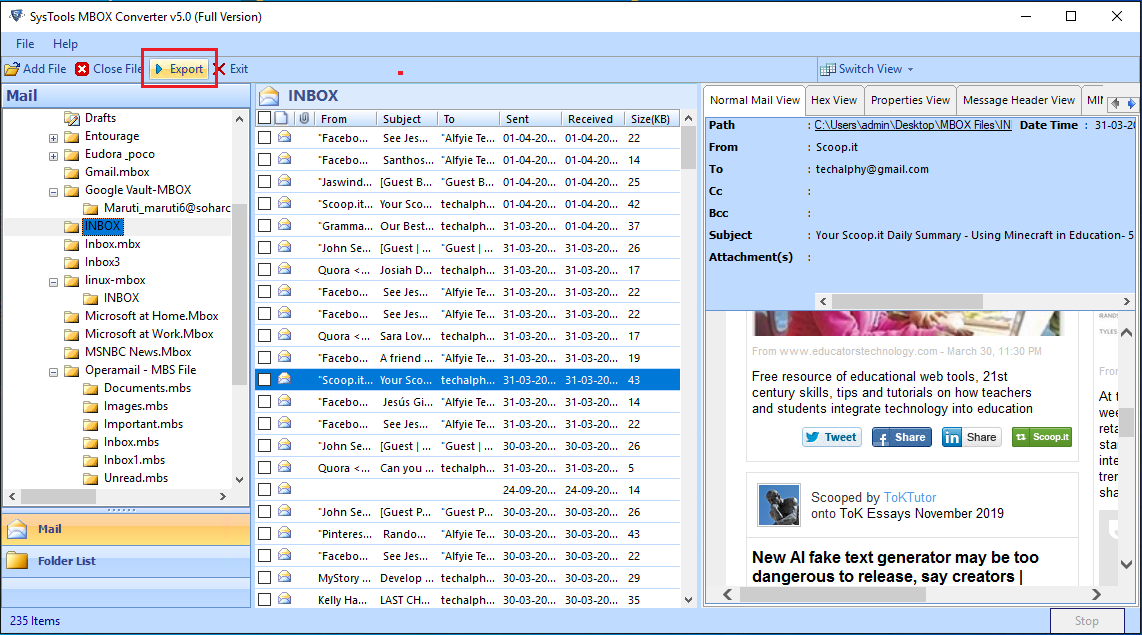 4. Now, select the PST format from the given list of options and choose the location to save the converted file(s).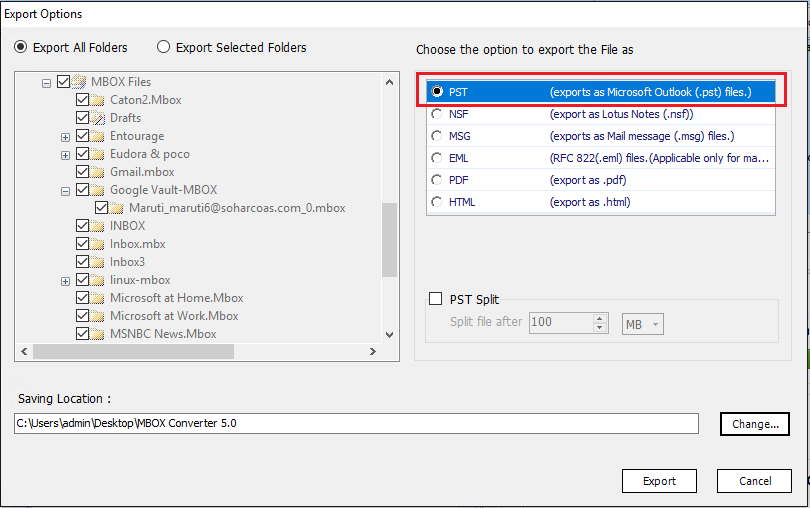 5. Click Export button to start converting Cone Mail to PST.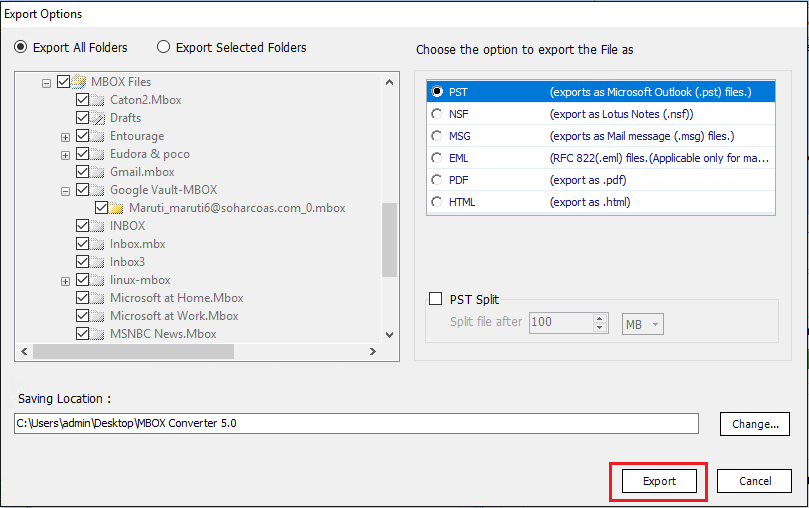 6. The tool will start the export process and output PST file will be saved to destination location provided by the user.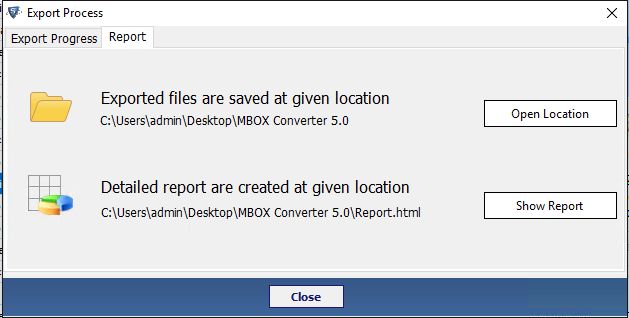 Why Cone Mail To Outlook Conversion Is Required?
Cone Mail email client is available for Unix-like systems. So a user who is switching from Unix to Windows or Mac is unable to keep using Cone mail client. Also, in many scenarios, a user needs to access the previosuly save Cone mailboxes on a Windows machine.
Thus users need to look for an email client operable on Windows. And Outlook is the best choice for professional use.
MS Outlook is a far better email client for Windows than others due to its integrated set of advanced features and support to MS Exchange account. MS Outlook supports and used widely by users in corporate and business sectors therefore, sharing and storing information in Outlook benefits more than Cone mail. Also the Outlook carries simple graphical user interface that even less technical person can operate emailing seamlessly.
Due to such advantages of Outlook, it is picked by the users as an alternative of Cone and thus one leads to the question as to how to import Cone mail to Outlook. The answer is a simple 3 step process:
Tranfer Cone mailboxes to Windows
Convert Cone mail to PST
Import PST to Outlook
These steps are mentioned in detail in the blog. Read the complete article and easily move all the mails from Cone to Outlook with attachments.