Easy Solution to Import Eudora Mail to Outlook by Exporting Eudora to PST
The blog defined a method to easily import Eudora Mail to Outlook 2019, 2016, 2013, 2010, 2007 & 2003. It does so by converting MBOX files of Eudora to PST files.
About Eudora Files & Their Default Location
Eudora stores its emails of mail folders as mailboxes (.mbx file extension) on the local system hard drive. However, the default location of MBX files varies according to operating system, OS versions and the type of account they are configured with. Moreover, for each email folder it creates the separate MBX file. For instance, it forms In.mbx file in Inbox folder, Out.mbx for Outbox folder, Drafts.mbx, for Drafts, Sent.mbx for Sent Items folder, Junk.mbx for Junk folder, etc. The attachments are saved in another directory called 'Attach' and the embed images of the email messages are stored in another directory called 'embedded'.
Default Location of User Data 'Mailbox' (MBX) Files
For Windows Users:
In new versions of Windows OS like Win 7, 8, 8.1, for IMAP Account:
C:\Users[user name]\AppData\Roaming\Qualcomm\Eudora\IMAP\ Dominant
In old versions of Windows OS like Xp, 2000 etc., for IMAP Account:
C:\Program Files\Qualcomm\Eudora\IMAP\Dominant
In new versions of Windows OS for POP Account:
C: \Users\ [user name]\ AppData\Roaming\Qualcomm\Eudora\
In old versions of Windows OS for POP Account:
C:\Documents and Settings\[user name]\Application Data\Qualcomm\Eudora
For Mac Users:
For Apple Macintosh system:
"Users: username: Documents: Eudora Folder: Mail Folder"
For Mac Classic:
"Documents: Eudora Folder: Mailbox"
Do note that Eudora 8 and above versions are open-source applications unlike its earlier versions. These open-source versions use without extension MBOX files to store emails, attachments and embedded images all in one file.
Default location for such file is: "%appdata%\Roaming\Thunderbird\Profiles\xxxxxxxx.default\"
How to Convert Mailbox MBX Files of Eudora to Outlook PST?
As there does not exist any manual procedure to convert Eudora mail to Outlook PST format, it gets essential to make use of any third party conversion utility. A tool to convert MBOX to PST file is the best answer to query such as: how to convert Eudora mailboxes to Outlook PST? Some of them are:
It exports the attachments along with emails
It do not cause data loss
It provides choice to merge all Eudora files into a single PST
There is no need for Outlook configuration
The tool automatically fetches the mailbox items from Eudora, so there is no need for manual intervention
Also, with this tool the process to import Eudora Mail to Outlook can be achieved on all editions of MS Outlook i.e., Outlook 2019, 2016, 2013, 2010, 2007 & 2003.
4 Simple Steps to Export Eudora to PST
Click "Add File" to add Eudora Mail files.
Select "Eudora" & "Default Profile Configured".
Preview emails before conversion to PST.
Select "PST" & "Export" Eudora Mail to PST.
The suggested tool converts mailbox files into PST in four simple steps that are: Add, Scan, Preview and Export.
STEP 1: ADDING MAILBOXES
The very first step is to add the Eudora mailbox files by using the "Add File" option in the Eudora Mail to Outlook tool.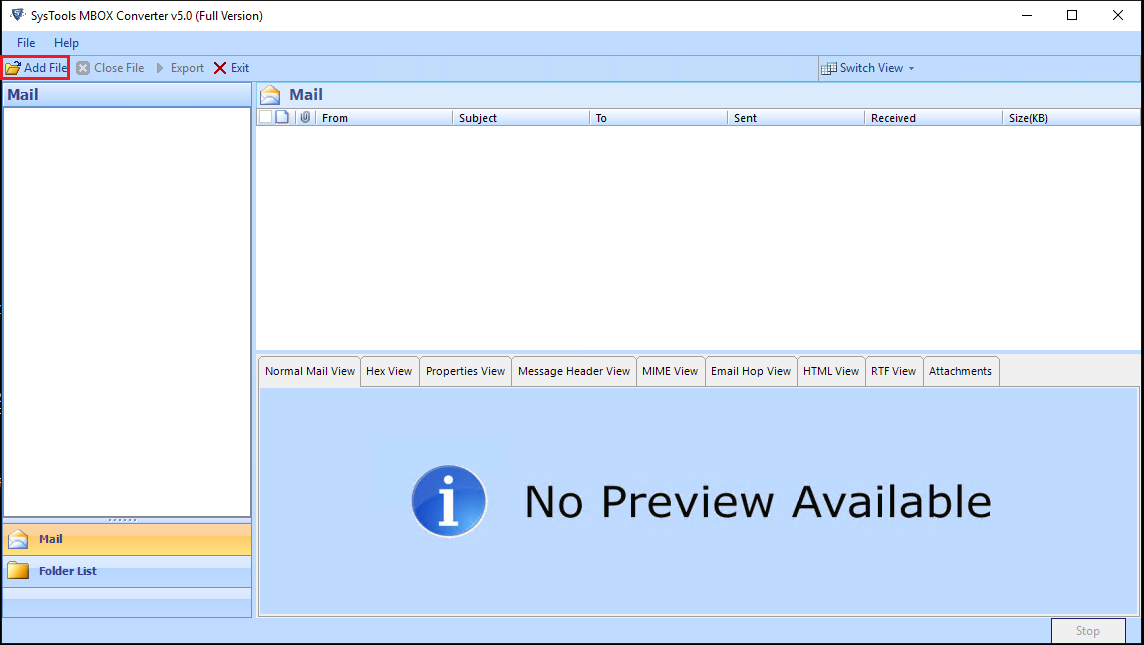 The choice is to click 'Eudora' and select 'Default Profile Configured'.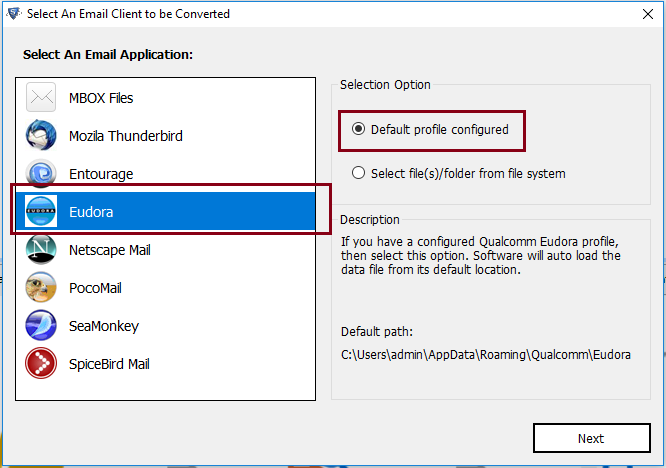 STEP 2: SCAN FILES
Now select the identities to process and scan. You can also choose all identities at once.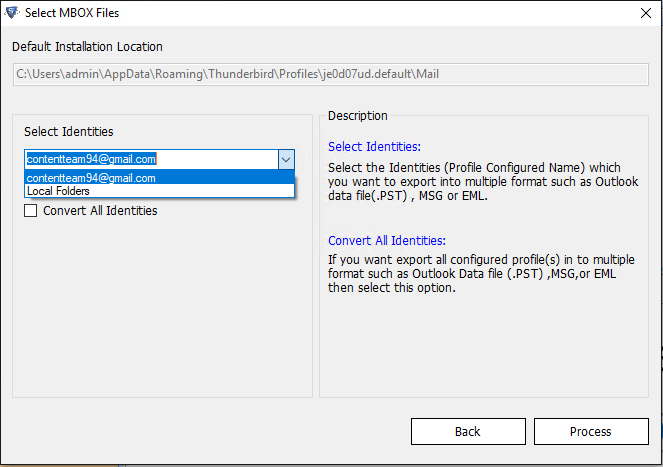 STEP 3: PREVIEW EMAILS
Once added, the utility automatically scans the selected mailbox file(s) and gives a preview of all the emails as well as their attachments, if present. Then either all or few selected emails, as per need of users, can be chosen to export the emails.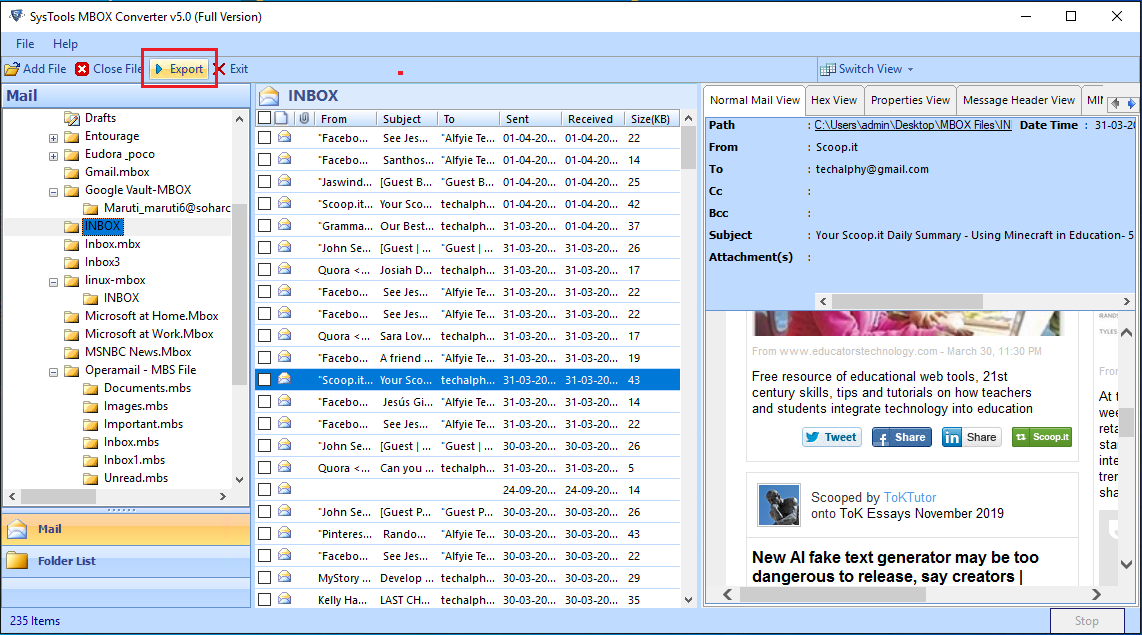 STEP 4: EXPORT EUDORA TO PST
Now select PST from "Export Options", choose folders to be exported into PST, Select PST split if required, Browse destination location and Finally, the 'Export' tab must be clicked upon to save the emails in Outlook PST format.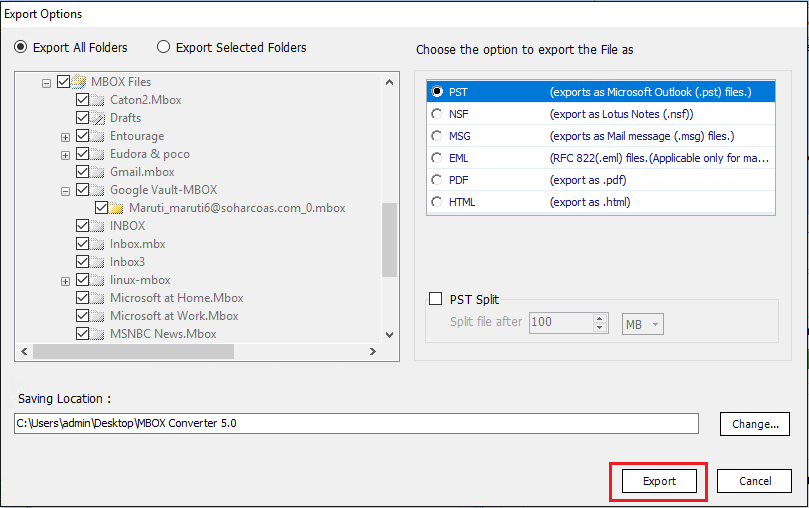 The Eudora Mail to Outlook tool starts converting selected folders and also shows folder name, Item count during the conversion process.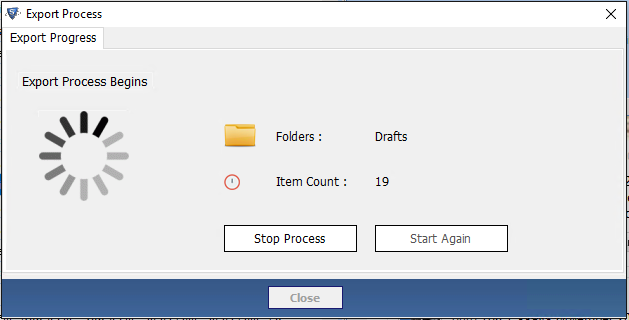 Brief Introduction of Eudora Desktop Email Client
Eudora is an email program application which is based on the desktop. It was acquired by Qualcomm in the year 1991 and is currently owned by it. It can be configured with any IMAP or POP3 accounts to access the cloud emails locally on one's desktop offline i.e. without Internet access. Moreover, not just one, but multiple accounts can be configured within it. However, to download emails from the server of particular web mail program's connectivity to the Internet is a must.
It is supported by all major operating systems such as Apple's Macintosh (Mac OS & Mac OS X), MS Windows and Linux as well. It is also supported on a variety palmtop computing platforms such as Palm and Newton OS. Conversely, it is no longer under development and also that its community support forum does not exist anymore. Hence, further it shows the way to convert Eudora mail to Outlook PST file type.
Previously, the particular emailing application came free of cost, but has been commercialized now. It is available in three forms that are Sponsored, Paid and Light. The availability of various amenities like security features, add-ins, authentication, spam filtering, etc. of Emails, Address Book and other present categories depends entirely on the mode being used. However, still some disadvantages are associated with it. Therefore, users prefer to Converting Eudora to PST format.
Concluding the Conversion of Eudora MBOX to PST Format?
The Eudora mail program stores its emails in mailboxes with MBX format, whereas Windows Outlook stores all data items in PST format. The reason being that .mbx extension is the proprietary file format of Eudora client whereas .pst is that of MS Outlook for Windows. Hence, if users want to access Eudora emails in Windows Outlook, it becomes a necessity to convert Eudora MBX to Outlook PST format.
Once Eudora MBX files get exported into PST format, the emails can be accessed by importing the PST file into MS Outlook. The steps to do are provided in the article.