Exporting Evolution Mail to PST (Email Migration from Evolution to Outlook)
Looking for data migration from Evolution to Outlook? Simply save your Evolution MBOX files and export Evolution Mail to PST format on Windows system. Simple, easy and secure method.
Evolution is a desktop email client launched in 2000 and is developed by GNOME Project. It consists of emails, calendar, address book, task-list and note-taking features. Evolution is a free software and its interface & functionality is similar to MS Outlook.
However, unlike Outlook which is available for Windows and Mac, Evolution Mail is available for Linux and unix-like systems. Sometimes Evolution users switch to Outlook or have the need to access the Evolution emails in Windows. For such instances, Evolution to Outlook migration becomes necessary for cross platform data transfer.
What is the Default Location of Evolution Data File?
Evolution email client creates MBOX file which is the most used file format for email clients. Hence, MBOX file from other email clients can be easily imported in Evolution. The default location for the storage of file is given below:
Windows - 'C:\Documents and Settings\Administrator\.evolution\mail'
You can also export Evolution emails into MBOX format by doing the following:
Run Evolution Mail
Highlight all the emails of a mailbox folder such as Inbox.
Go to File >> Save as MBOX format.
Proceed to save the file at the preferred location.
Once you have the MBOX files, move on to the next section for Evolution to Outlook migration.
Unix-like – '~/.evolution/mail/local.'
For Unix-like system users, transfer the MBOX files (no-extension file) to Windows system and move on to the next section.
How to Export Evolution Mail to Outlook PST format?
The MBOX to PST Converter easily exports Evolution Mail to PST without any hefty requirements. It uses 4 easy steps of ADD, SCAN, PREVIEW & EXPORT for Evolution to Outlook migration. It has a boatload of features including support for batch conversion, split file, preview of emails, creation of single/multiple PST, etc.
You can download the free version of the tool from here and migrate required emails from Evolution Mail to PST format. The only limitation of the demo version is exporting 25 emails per file into PST.
Follow the steps to export Evolution Mail to PST:
Run Evolution Mail to Outlook PST converter.
Add MBOX files of Evolution Mail in software.
Preview emails and attachments before migration to Outlook.
Select PST and apply required settings.
Export Evolution Mail to Outlook PST at the preferred location.
Want screenshots for ease? Get them below:
STEP 1: Launch Evolution Mail to PST Converter application and add the file by clicking "Add file".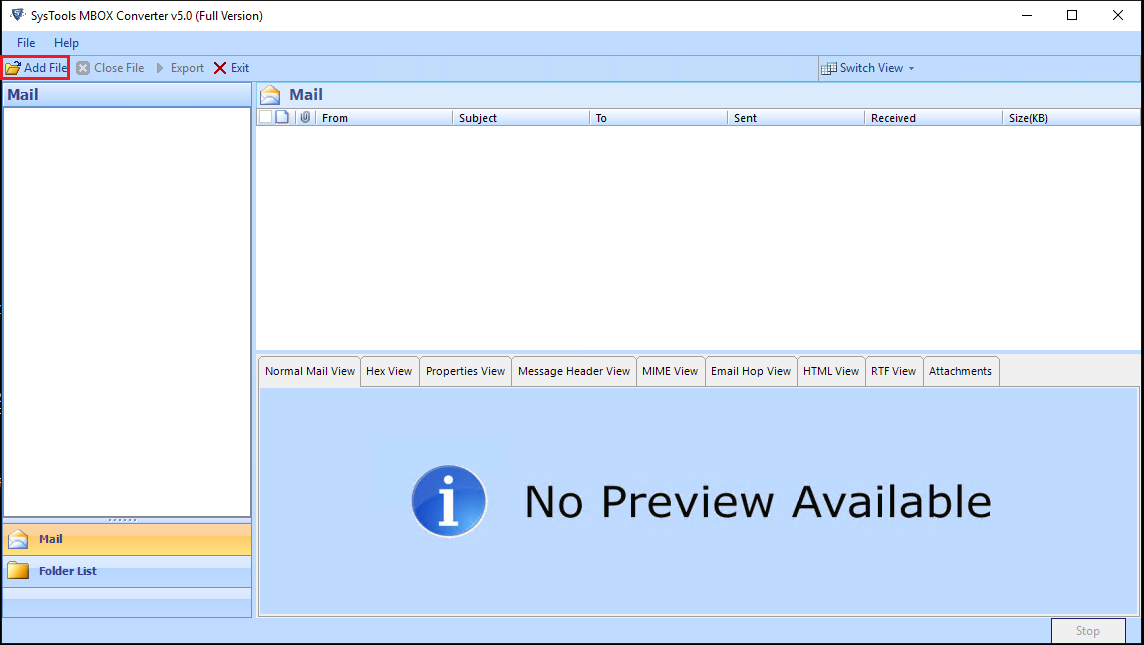 STEP 2: Choose the MBOX files from the system and load them into the software to proceed.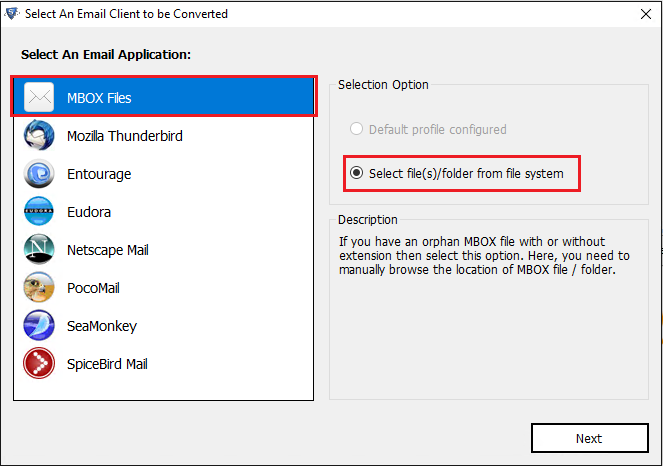 STEP 3: Quick scan loads all the emails along with the attachments in the tab view. Multiple views can be used to describe the email details.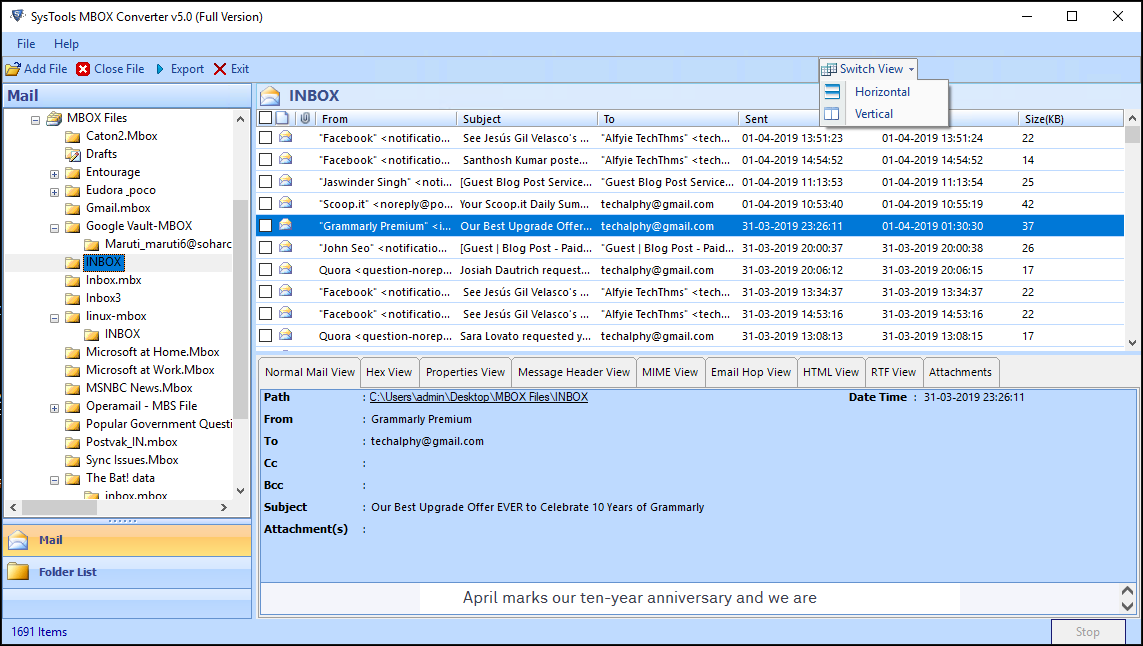 STEP 4: For selective conversion, select the checkbox and right-click > Export. For bulk conversion, do not select any checkbox and click the Export button on the top ribbon bar.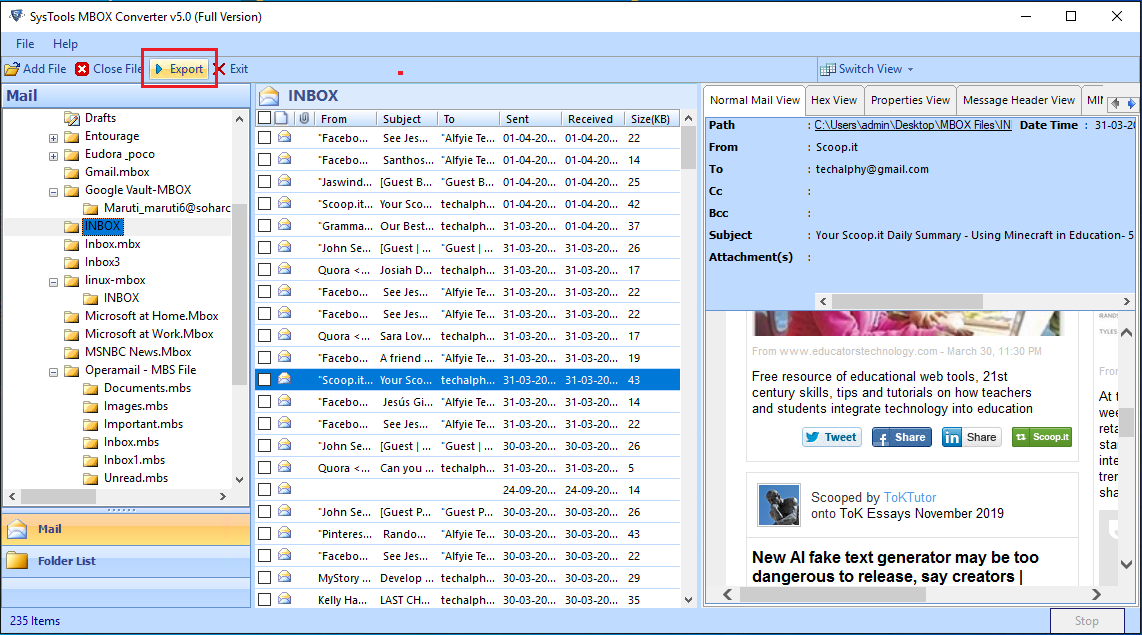 STEP 5: Select PST option for converting Evolution Mail to PST and give destination path. On Export Options tab, select all folders or choose from specific folders.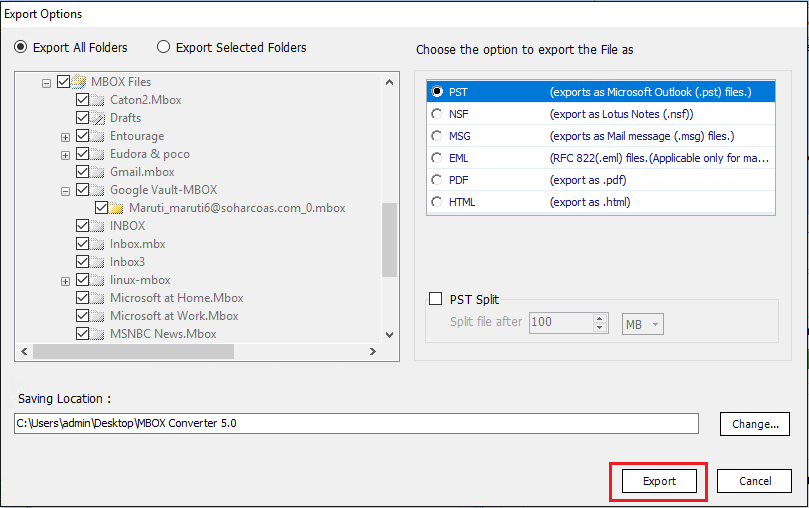 STEP 6: Export process starts soon after clicking on Export button. You can check the converted PST file in the saved destination path when the process is complete.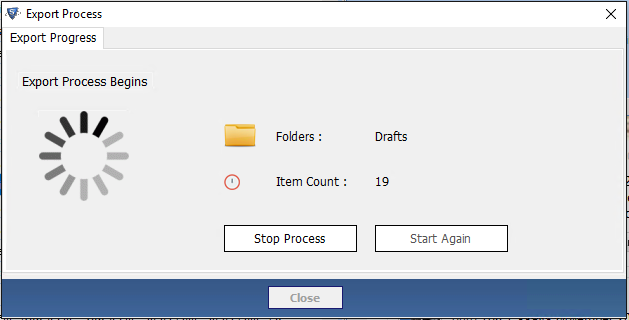 Concluding the Conversion of Evolution Mail to PST Format
Evolution email client uses MBOX file format which is different in MS Outlook as it has PST format. Both email clients are different but the fact is that Outlook is more popular and contains more features, regular updates etc. thereby giving flexibility to the users.
So, for doing Evolution to Outlook email client migration, the mentioned software is useful. It can perform the conversion in simple steps.