How to Export Mozilla Mail to Outlook PST File
Still having the old Mozilla Application Suite consisting of Mozilla Mail and Newsgroup? Want to finally export Mozilla Mail to Outlook? Read and find exactly how.
An Insight Of Mozilla Mail: Mozilla Mail also referred as Mozilla Mail & Newsgroups was both a news and an email client which was part of Mozilla Application Suite. It supported all the known protocols like IMAP, SMTP and POP3. It also had a built-in Bayesian spam filter. This suite was later was superceded by SeaMonkey.
The features that Mozilla Mail used to have are very similar to the features exhibited by modern stand-alone application, Mozilla Thunderbird. This can be inferred because both Mozilla Mail and Mozilla Thunderbird shared the same database except their user interface.
Users still having the database of Mozilla Mail need to export Mozilla Mail to Outlook in the modern era. Outlook is the most used professional email client and is often preferred over other email platforms. In this article, we will learn how to convert Mozilla Mail files into PST and use emails in MS Outlook program.
File Formats Used By Mozilla Mail
There are three mailbox-related formats supported by Mozilla Mail - .mbox and .msf. The main file which is used to export data is MBOX file, while msf file is the Mail Summary File.
mbox: It is the storage file of Mozilla mail and stores all the mails in a single mbox file. It has no extension.
msf: It is an index file of the mailboxes.
maildir: This file stores a single email in a single file. This file format is not stable and therefore is not used frequently.
All the profiles of Mozilla Mail are stored in the Profile folder and all the details about the mailboxes is present in .mbox files.
What Is The Need To Export Mozilla Mail To Outlook?
The major issue that leads the user to import Mozilla emails into Outlook is due to POP3 configured account. When Mozilla Mail is used in local folder mode i.e. with Mozilla Mail account configured with POP3, the capacity of email storage and other offline folders is limited to 4 GB. In case the size limit is exceeded, it causes corruption of Mozilla Mail mailboxes. Since Mozilla Mail stores its database in the system, therefore overly long filenames also lead to issues with POP3 configured mailboxes.
Also, it is old and replaced. It is outdated and cannot compete with the modern email clients. While Outlook is the de-facto email client of the modern era. As a result, people often switch to MS Outlook.
Due to all the mentioned issues, users export Mozilla Mail to Outlook.
How To Export Mozilla Mail To Outlook?
There is no manual method available to convert Mozilla Mail to Outlook PST file. Therefore one needs to take help of external tools in order to do the conversion. One such tool which lies in this category is MBOX to PST converter. The tool converts emails into the desired format without losing attributes.
Note: Do note that MSF File is only an Index file. It does not hold the message content. Therefore, only the MBOX files are required for data export. There is no need to convert MSF to Outlook PST. Regardless, the converted emails will have all the original infomation without any exceptions.
The conversion process of Mozilla Mail to Outlook can be performed by following mentioned steps:
1: Run the tool and hit the Add File button.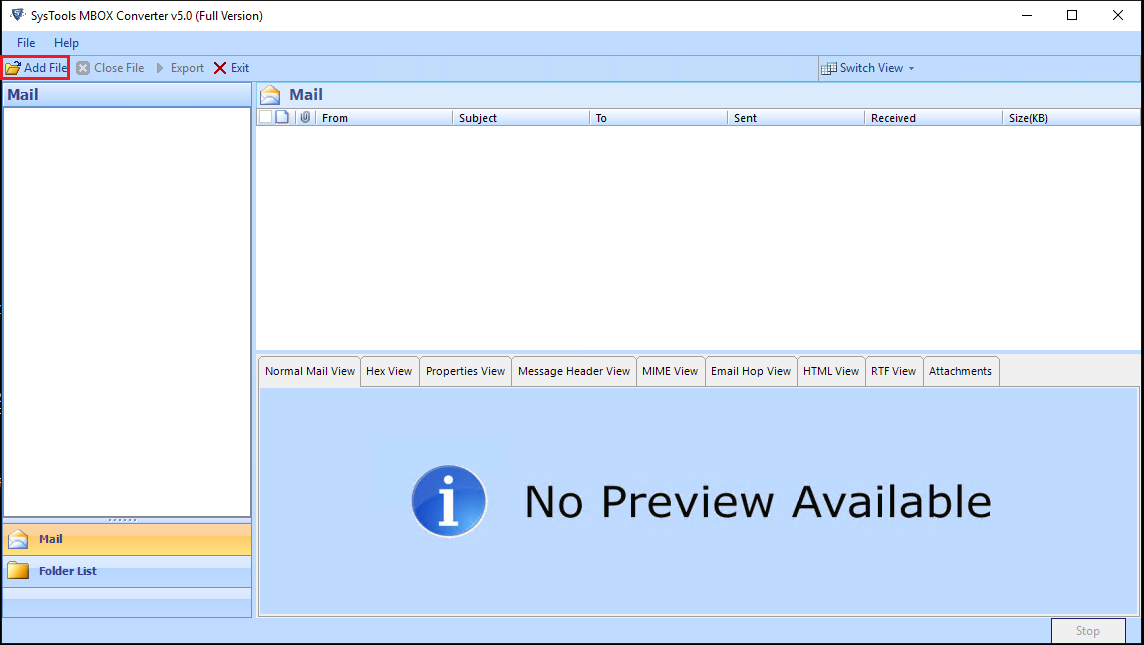 2: Select the MBOX file option from the list and hit the Next button.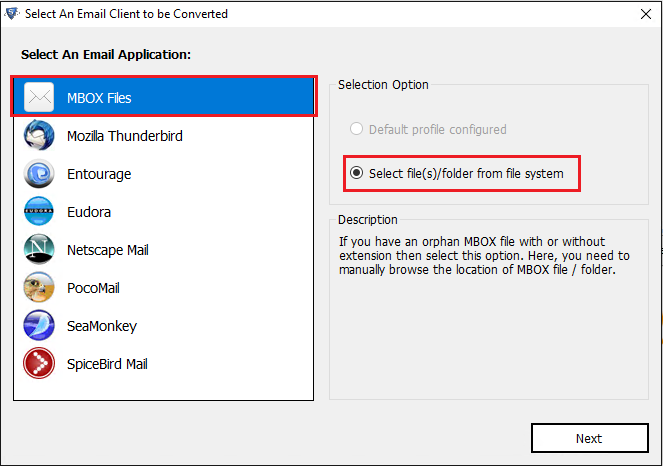 3: Select the file or folder that you want to convert to PST format. Browse the file or folder and add it.

4: The software will give a hierarchical view of all the mails in the mailbox. Directly export all mails by selecting Export option from the tool bar of the software.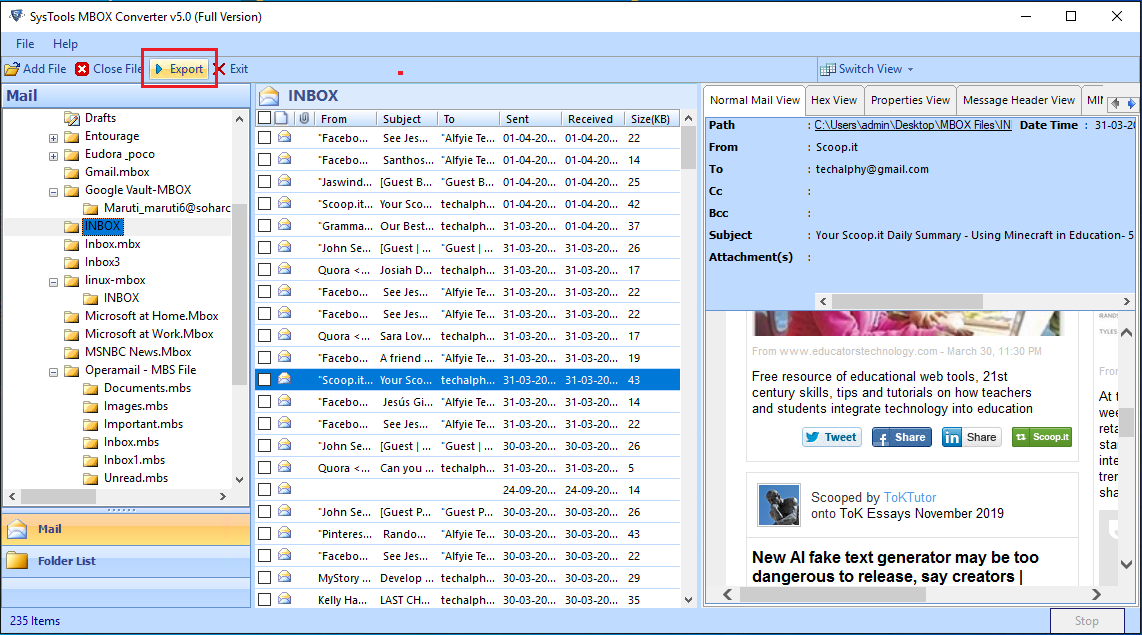 Optional: Export selective mails by individually selecting all the mails and then right click on the mails. The tool gives export option to export Mozilla Mail to PST, EML and MSG formats.
5: Select the PST format for accessing the Mozilla Mail items in Outlook. Clikc the Export button to create the PST files.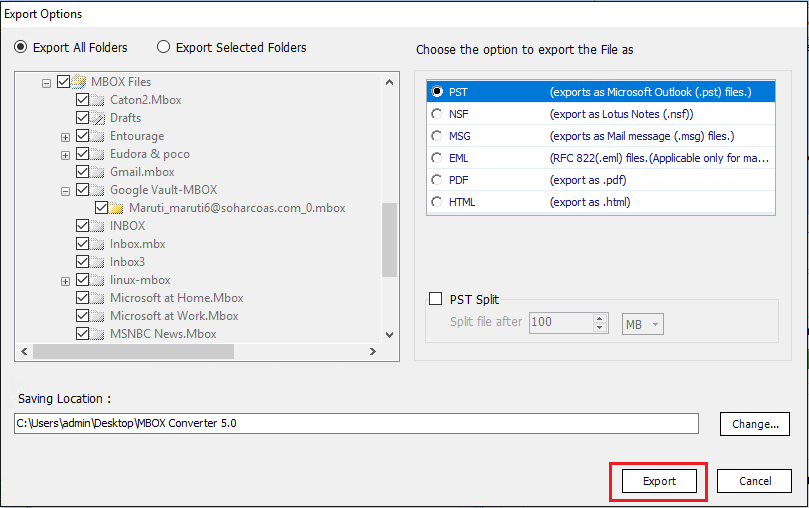 Wrapping Up
The old Mozilla Mail of the Mozilla Application suite used MBOX and MSF file to store emails and its summary. One can used the recommended tool to easily export Mozilla Mail to Outlook by processing MBOX files. But make sure not to try converting MSF to Outlook PST as it is just a summary file and does not contain actual data. Hopefully this guide will help you achive your results without any problems.