How to Convert Mulberry Mail to Outlook PST Format?
Know how to import Mulberry email to Outlook without losing attachments. Steps provided for converting Mulberry files and importing them in Outlook.
Basic Introduction to Mulberry email client: Mulberry is an open source email client released in 1995 with Internet standards such as IMAP,LDAP, IMSP, ACAP, and iCalendar, a unique GUI. Mulberry email client is available for Windows, Linux, and MAC. It also contains TLS/SSL security and support for plain text, rich text, and emails in HTML format.
What is the need to convert Mulberry to PST Format?
Mulberry is an open source email client which uses MBOX file format. It has a significant user-base. MS Outlook is also an email client available for Windows & Mac. It has a large userbase because of its features, flexibility, security and regular updates. But unlike Mulberry, Outlook uses PST file to store its mailbox data.
So, in order to migrate emails from Mulberry to Outlook, the Mulberry mailboxes must be converted into PST format. It serves the purpose of cross email client migration as PST file is supported by Outlook for Windows as well as Mac versions.
How to Convert Mulberry Mail to Outlook PST format?
First we will talk about location of mulberry database, then the technique to convert them into Outlook.
What is Default Location of Mulberry Data File?
Mulberry email client creates MBOX file format which is the most commonly used file format for storing email messages. A variety of other email clients also make use of this format.
The mailbox and other data is stored in Mulberry at a particular location which is given below:
C:\Documents and Settings\Administrator\Application Data\Cyrusoft\Mulberry\Mailboxes
Do note that regardless of your system – Windows, Mac or Linux, the MBOX files are always present in the Mulberry directory >> Mailbox folder.
Technique to Convert the Multberry Database Files into PST
There is no official solution to move from Mulberry to MS Outlook. Even after knowing that you need to convert emails into PST format, users are unable to transfer mailboxes. This can be resolved by making use of professional tools.
MBOX to PST converter for Mac and Windows converts the Mulberry Mail to Outlook PST with 3 easy steps of ADD, PREVIEW & EXPORT. The tool is available for both OS and can easily export mailboxes regardless of its size. Some important features of both tool variants are:
Process multiple files without restriction
Add single/multiple Mulberry MBOX file
Multiple export options: PST, MSG, EML, PDF, HTML
Merge all mailboxes or create a PST for each Mulberry MBOX
Original data integrity with no data loss
The download button is for Windows users only. For Mac version, go to the home page.
Steps Regarding Mulberry to PST Conversion:
Step 1: Run converter for Mulberry Mail to PST and select Add File.
Step 2: Choose the Mulberry Mail MBS file to export.
Step 3: Preview emails in different preview modes.
Step 4: Export Mulberry Mail file into PST file for Outlook.
Note: If you are using different system for conversion than the one having Mulberry, do not forget to transfer mailbox files into the conversion system.
For more elaborate process, follow the working steps with below screenshots:
1. Add MBOX file by clicking Add file option after launching Mulberry to Outlook Converter.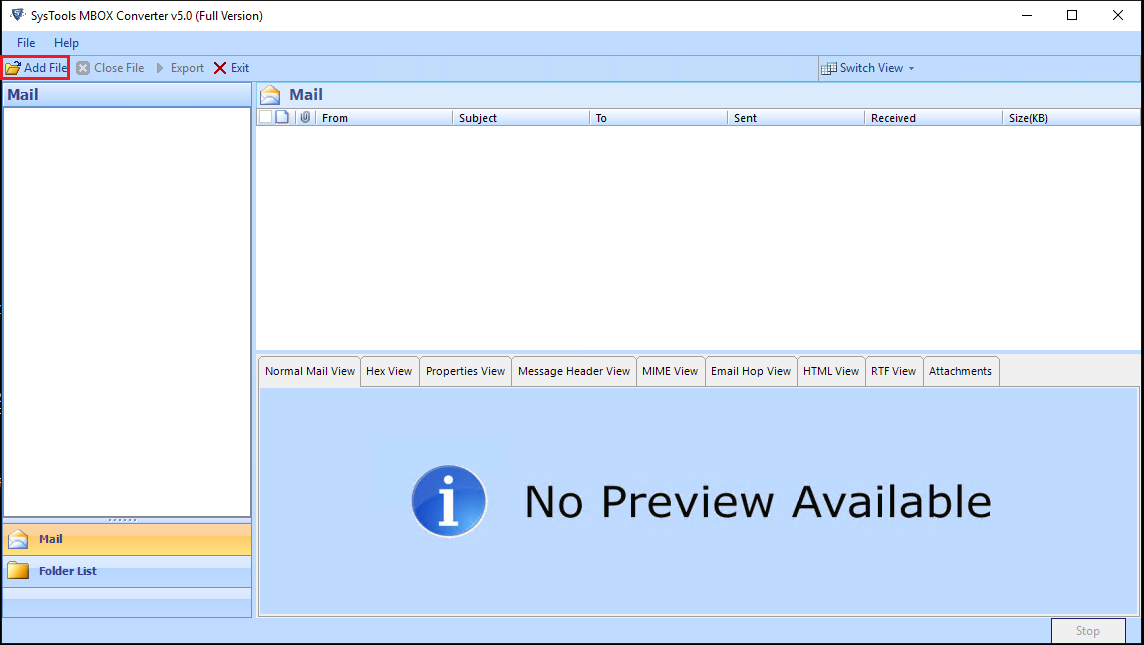 2. Now, select the MBOX file option and browse the folder containg Mulberry mailboxes.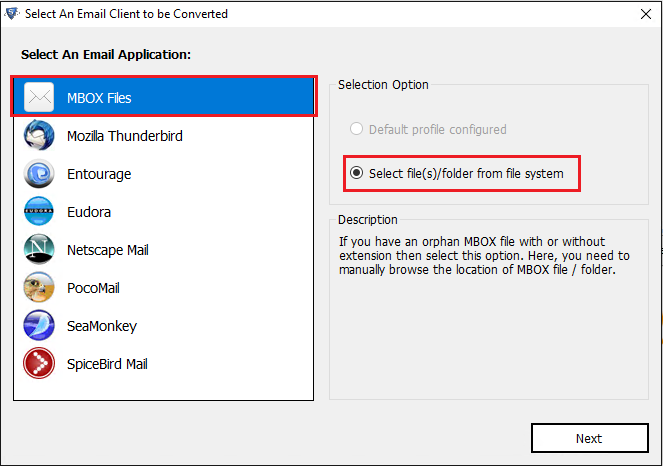 3. After a quick scan, all the emails along with the attachments are loaded in the tab view. Multiple views describes the email in details. Click Export to proceed with Mulberry to PST Converter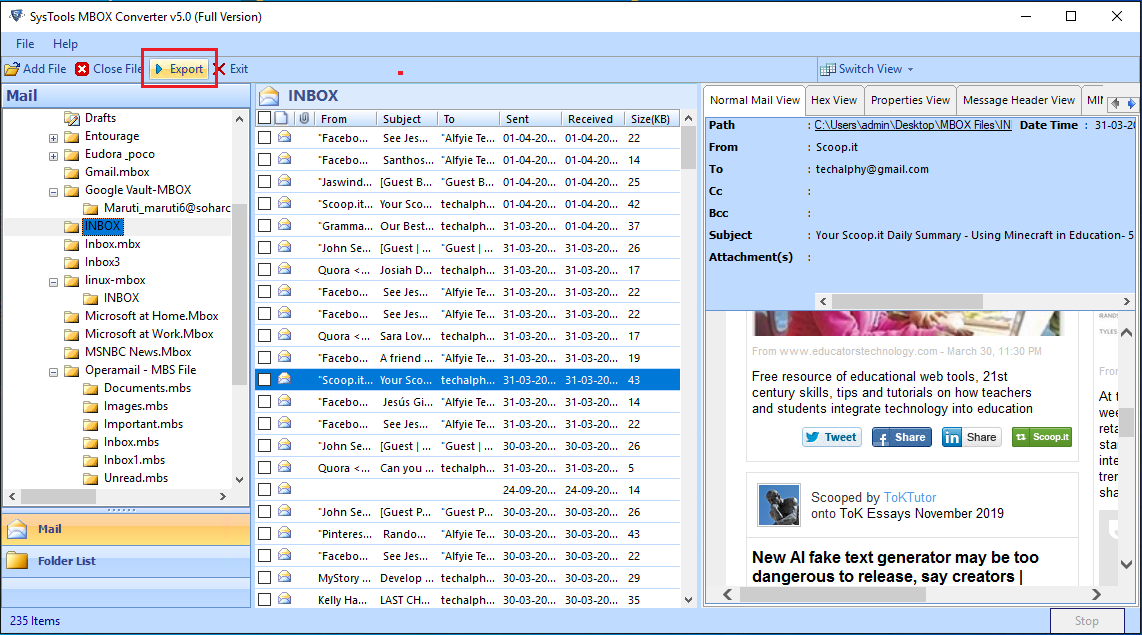 4. On Export Options tab, select all folders or choose from specific folders. After that choose the PST option for converting Mulberry file to PST by giving destination path.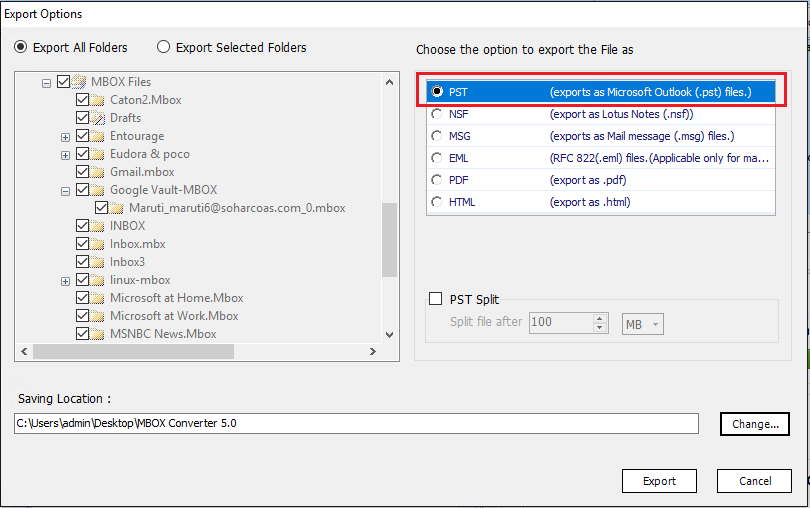 5. Convert Emails into MS Outlook Process starts soon after click on Export button.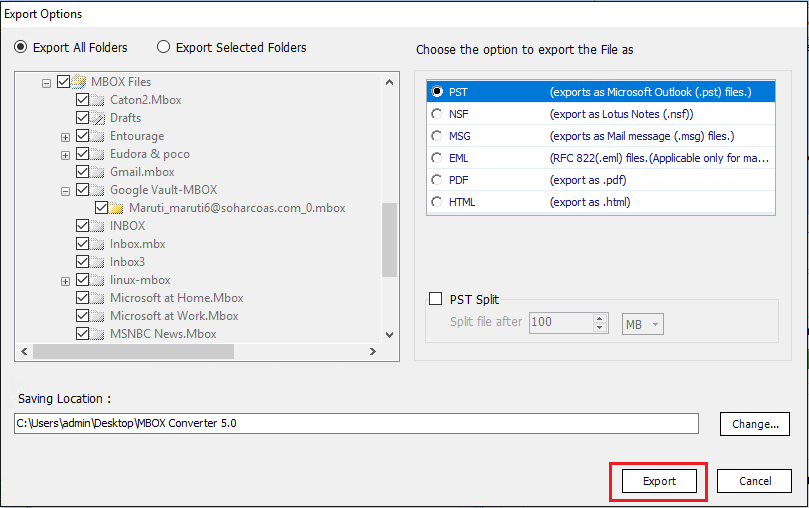 You can check the converted PST file in the saved destination path when the process gets completed.
Conclusion
Mulberry is a open source email client that on one look is inferior to MS Outlook in multiple ways. Thus, many users switch from Mulberry to Outlook. Whoever chooses to move to Outlook has to opt for a professional tool since there are no manual methods available. The article covers all the necessary steps to convert Mulberry Mail to Outlook PST and read them in Outlook 2019, 2016, 2013, 2010, 2007 & 2003.