Discover How to Import Mutt Mail to Outlook & Convert Emails to PST
Mutt Mail is excellent, No doubt about it! However, sometimes you just got to switch to Outlook. In those times, use this blog as reference and easily import Mutt Mail to Outlook. Convert Mutt Mail to PST files and import them in any Outlook version of your choice.
A Brief Introduction To MUTT Mail: Mutt is a powerful cross-platform email client. It is text based desktop email application primarily used on Unix operating systems. Originally built as a MSA, it gradually transformed into a mail client with a boatload of in-built commands.
In certain cases, people need to perform Mutt Mail to Outlook migration. Mostly because they tend to find Outlook more beneficial for professional use. You can read this article to know the steps to carry out Mutt Mail to PST conversion. But first let us have a look at the mailbox formats used by Mutt email client.
Default File Format of Mutt Email Client and Its Location:
MUTT Mail works with four different mailbox file formats that are MBOX, MH, MAILDIR and MMDF. The email messages in MUTT Mail are stored in separate folders. The default location of the folder is $MAIL shell variable. Firstly, the emails are seen in the spoolfile at '/var/spool/mail/USER'. The mails that have already been read can be moved to the 'mbox' folder by setting the variable 'move=yes'. You can define the format that you wish to use in $mbox_type.
When a folder needs to be specified, one is not restricted to folders located on local file system. You can use IMAP and POP3 folders on remote servers, too. However, it shouldn't be used for folders that get used automatically by mutt such as inbox or sent.
Paths to remote folders:
imap[s]:[user[:pw]@]imapserver.example.com[:port]/path
pop[s]:[user[:pw]@]popserver.example.com[:port]/ (no path, POP can handle only 1 mailbox)
How To Import Mutt Mail To Outlook?
MBOX to PST converter is the suggested tool to migrate MBOX file of MUTT Mail to MS Outlook PST file format. The tool is a standalone utility that facilitates converting and saving Mutt MBOX files in batch into a single or multiple PST file(s). The tool also provides an option to split PST in order to divide the data in a resultant PST file by size. The software is compatible with Windows 10 and beliw versions and does not require Outlook for the Mutt Mail to PST conversion.
Note: Do remember to copy your mailboxes to Windows system and then opt for the following instructions.
Follow these simple instructions to convert MUTT Mail to Outlook PST format:
STEP 1: Download, Install and Run the conversion app on your Windows system, then click Add File button.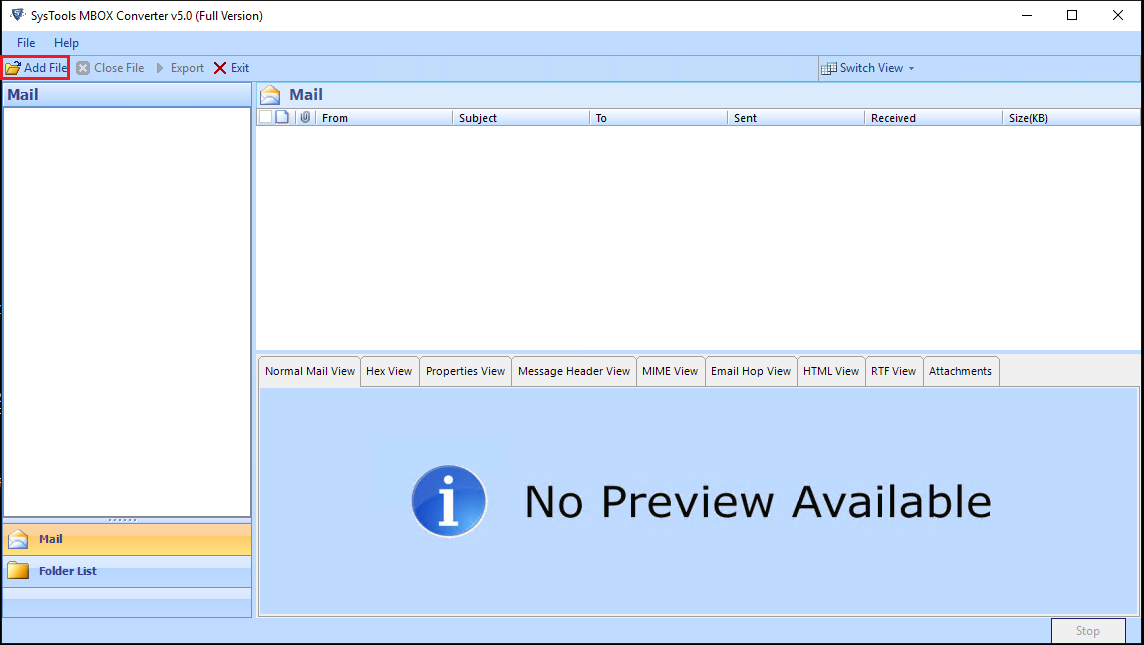 STEP 2: Select MBOX File and click Next button.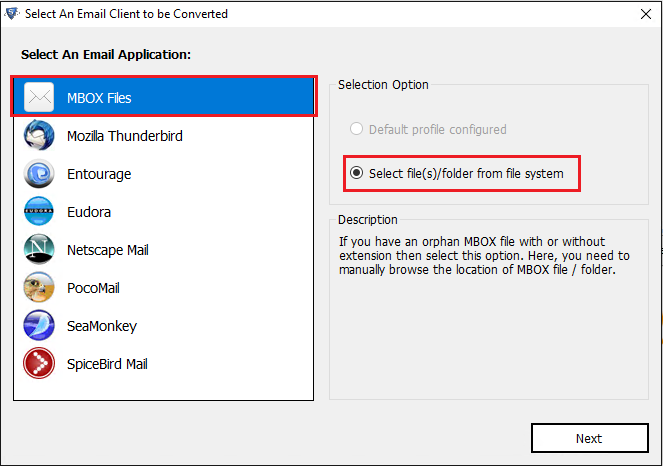 STEP 3: Browse the Mutt Mail files that you wish to convert to PST format. Select Folder option to add multiple files in one go, then click on Process button.

STEP 4: The tool scans the files and generates a preview of the Mutt email messages with their corresponding attachments, then click Export button.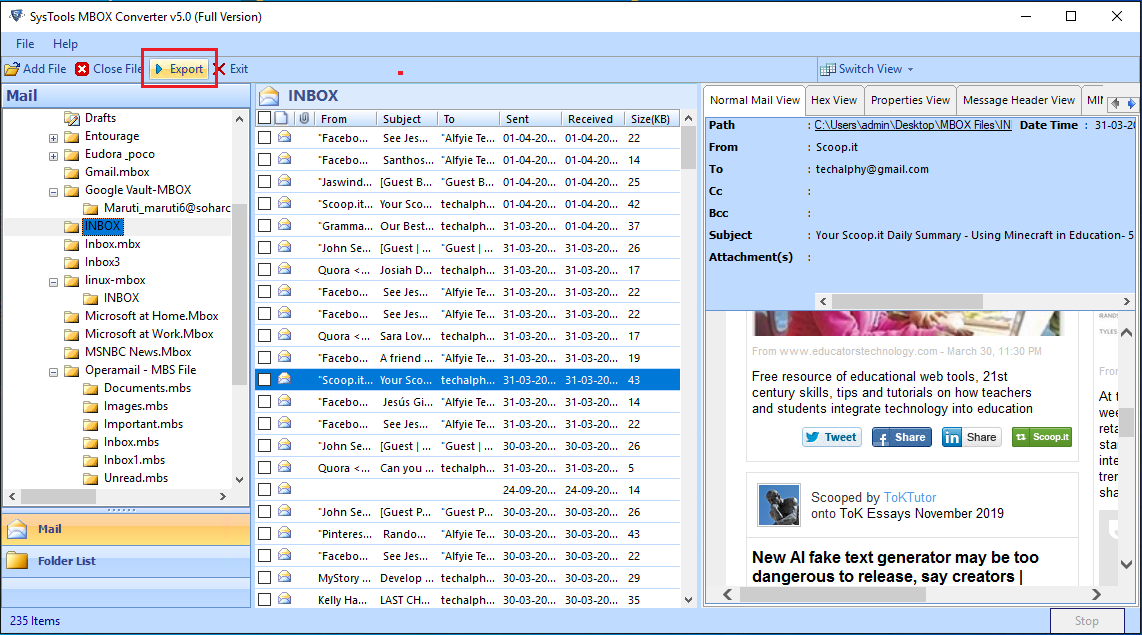 (Optional): You can also export specific emails by selecting them and right clicking on them, then choosing Export option.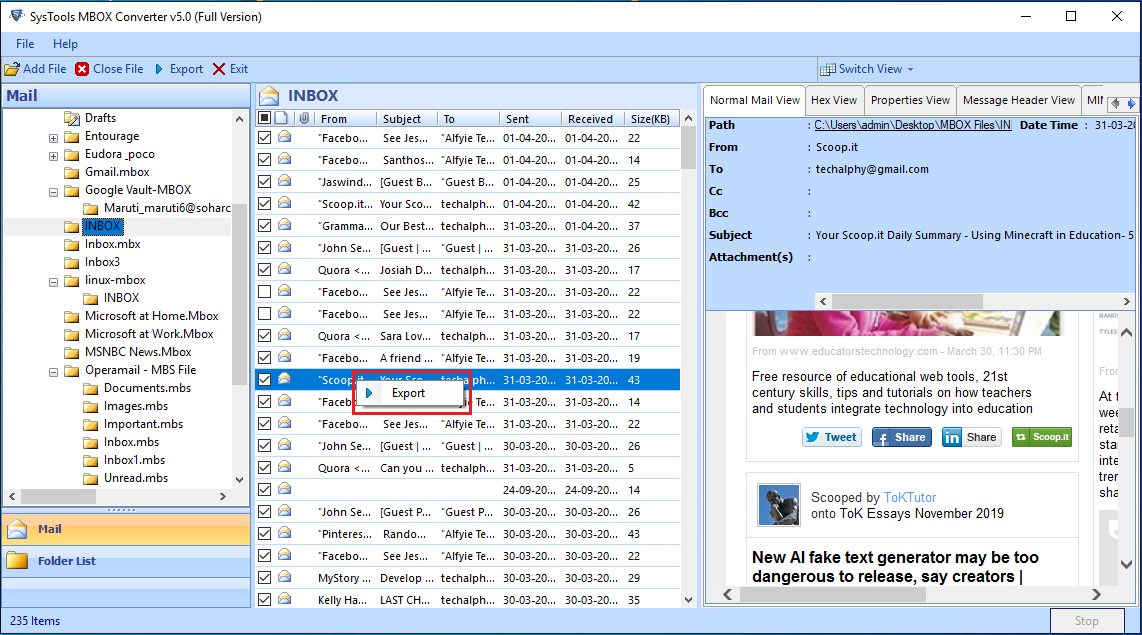 STEP 5: An export window will pop up with several export options. Select PST format.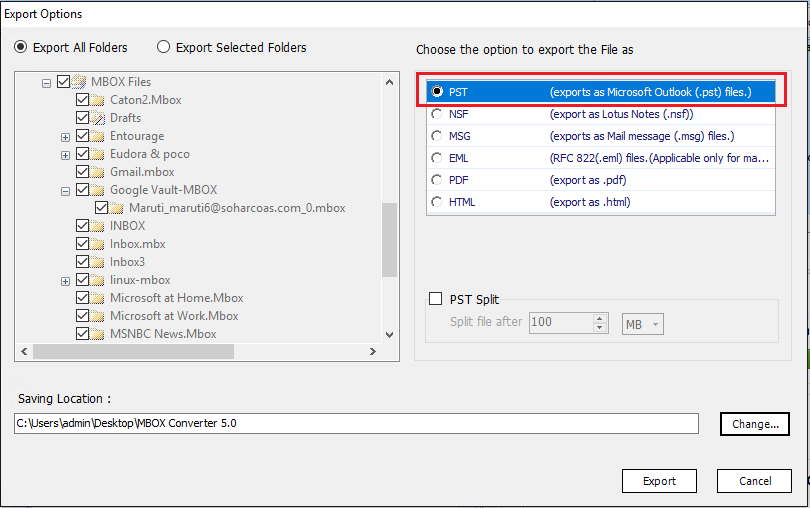 STEP 6: The tool provides an option to split the resultant PST file by defining the size in MB or GB. Browse for the location to save the PST. Click on the Export button to initiate the export process.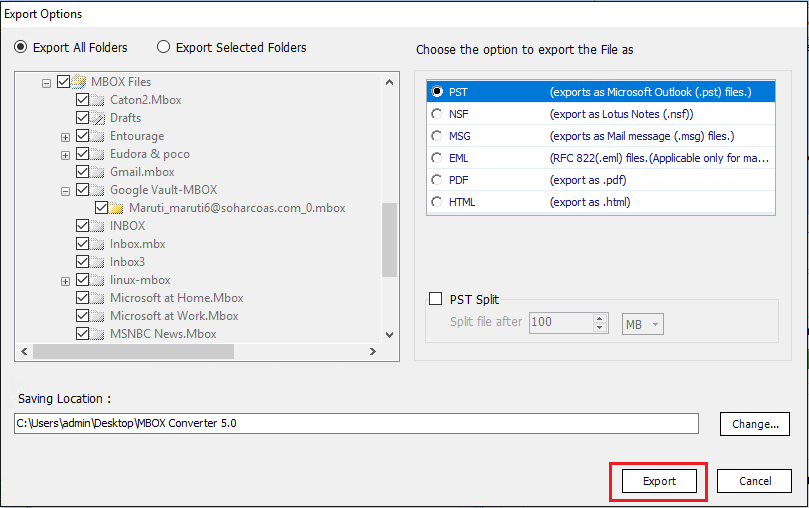 STEP 7: The Mutt Mail to PST conversion process will start. Let it process the emails and click Ok once done.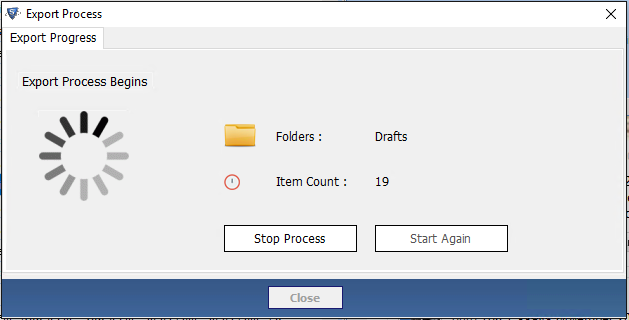 Why Is The Need To Convert MUTT Mail To Outlook PST?
A user who made the switch to Outlook:
"Hi, I used to use Mutt Mail exclusively for everything. But it just became too hard when people started complaining about my emails turning everything to Courier. So I've made the switch to Outlook and gotten used to it very quickly. I still do miss Mutt Mail a bit, but Outlook is working excellent and all complaints are now gone."
MS Outlook is an excellent desktop application suite. For its highly secure emailing environment, it is proving to be the most preferred mail client in the majority of business organizations today. In this regard, a number of MUTT Mail users are switching to Outlook for Windows Operating System. In such a situation, the MBOX files of MUTT need to converted to the PST file format in order to be accessed in MS Outlook. Reason being, Outlook supports only PST file format. Therefore, there is a need to convert Mutt Mail to Outlook PST.
Conclusion
Gone are the times when every email client used to use the same format to store data. It was easy to switch between your current and next email app. However, now, with so many email clients availabale professionally, most working with different mailbox extensions, email migration is not so easy. In this regard, switching Mutt Mail to Outlook is another instance, where a user needs to convert the Mutt Mail mailboxes into PST format, just to be able to use it in Outlook. Mutt Mail is excellent, but sometimes you just don't have any choice but to switch to Outlook. In those times, use our recommended conversion tool for a seamless conversion experience.