How to Import Netscape Mail to Outlook – Convert Emails from Netscape to PST
Applicable for Outlook 2019, Outlook 2016, Outlook 2013, Outlook 2010, Outlook 2007 & Outlook 2003.
Brief Introduction to Netscape: Netscape is a cross platform email client launched in 1998 by AOL which supports IMAP, POP3 & SMTP along with multiple account support. The popularity of Netscape declined and as a result from March 2008, Netscape is no longer supported or used. But it became an open source project and users can still download the old versions. Netscape uses MBOX files to store its mailbox data and SBD for maintaing folder hierarchy.
What is the need to Transfer Netscape Mail to PST Format?
MS Outlook is one of the most popular email clients for Windows. Ever since the discontinuation of Netscape email client, users have been moving to Outlook in search of better facilities. But the problem is - Netscape supports MBOX format and if the user wants to migrate to Outlook which supports only PST format, then there comes the need to do the conversion.
How to Import Netscape Mail to Outlook?
As there are no manual methods to transfer Netscape to PST, the user has to look for professional assistance. With MBOX to PST converter for Mac and Windows, one can easily convert all the mailboxes of Netscape Mail to Outlook PST format. Some of the features of the tool:
Auto fetch database of Netscape without manual intervention
Batch convert mutiple mailbox files at once
Selective conversion option also available via checkbox
Preview of emails before converting to PST file
Prevents Loss of Data
Follow the steps for Netscape to Outlook transfer:
Step 1: Start Netscape Converter and click Add File
Step 2: Choose Netscape and Default Profile Configured option
Step 3: Select identities and preview emails before data transfer
Step 4: Click Export to start transferring emails from Netscape to PST
For a better understanding, you can take a look at the working steps with screenshots:
1. After launching Netscape to Outlook Converter, select the Add File option from the menu bar.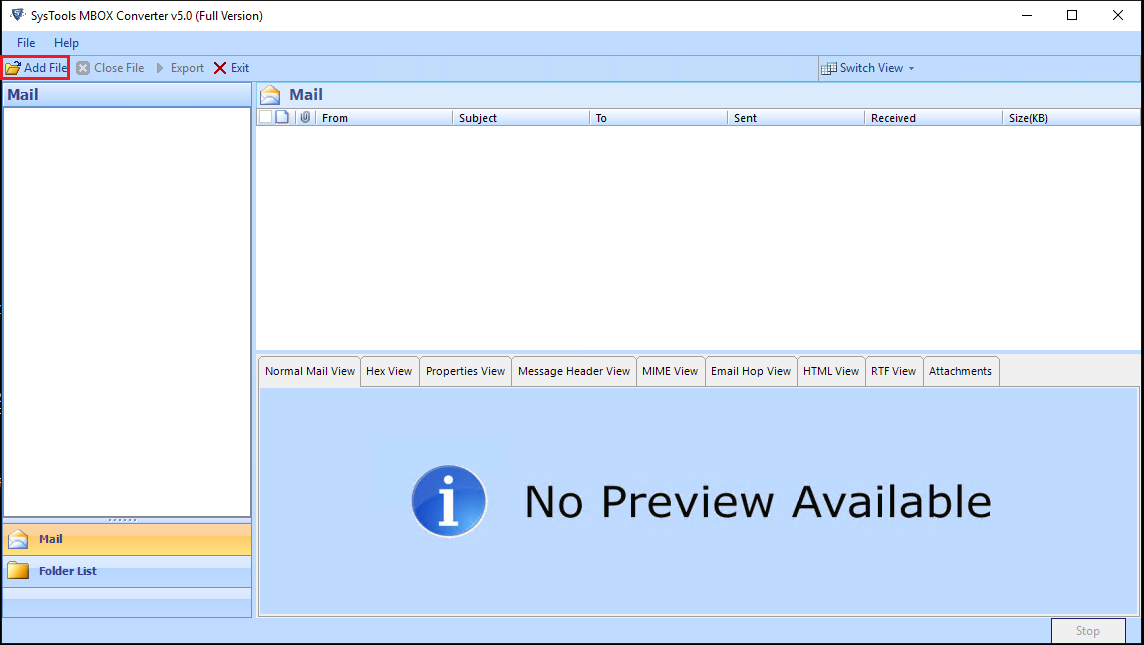 2. Now, choose Netscape email client from the list and click on Next.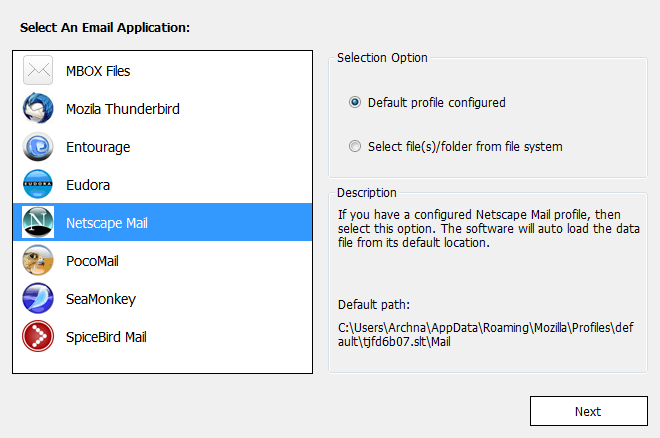 3. Select the identities/ profiles configured in Netscape Mail client and click Process button
4. The tool will generate the preview of all emails along with the attachments after the quick scan. The emails can be seen using multiple views with switch view mode option of Netscape to PST Converter.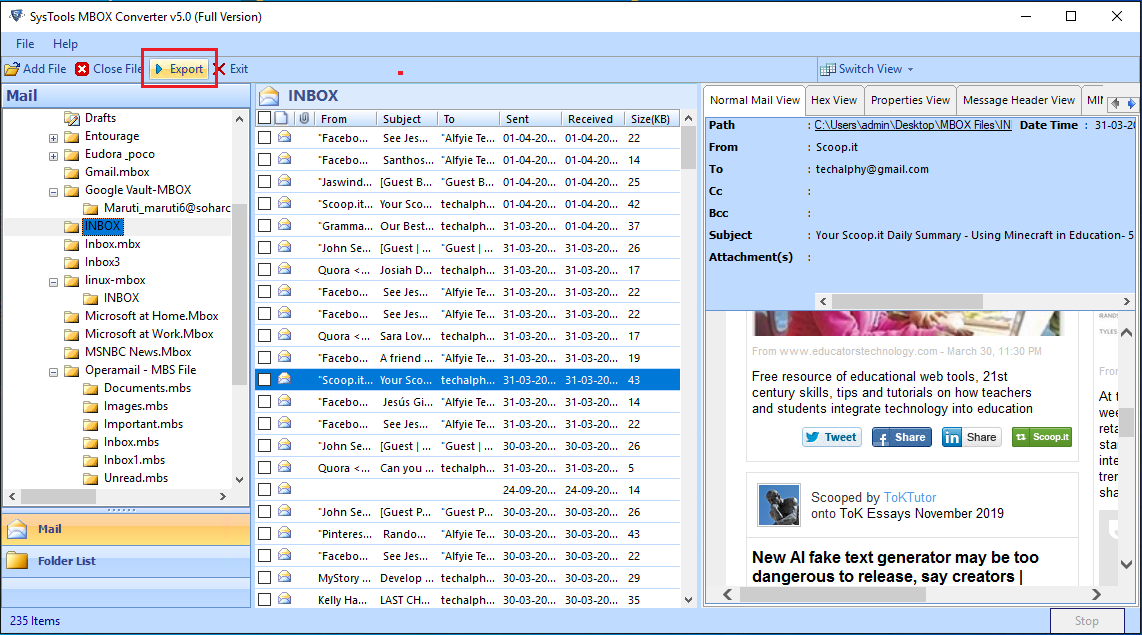 5. On Export Options tab, select all folders or choose from specific folders and then choose the PST option for converting Netscape file to PST by giving destination path.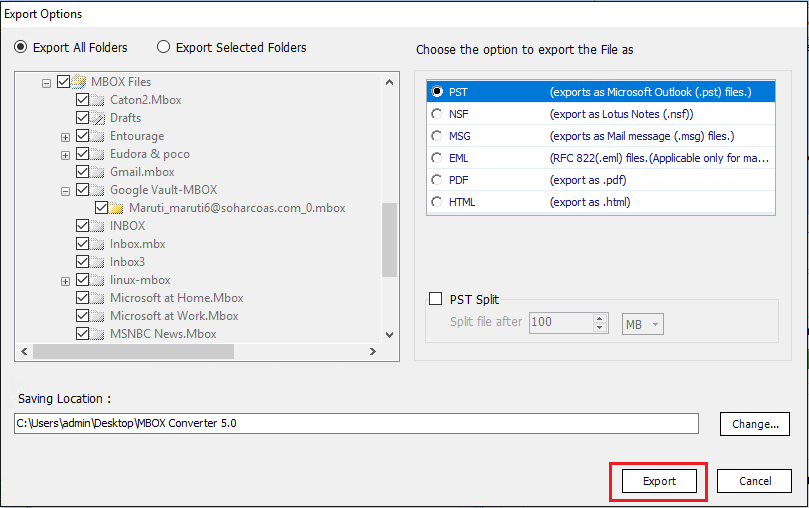 6. Export process starts after clicking on Export button. After this step, you can check the converted PST file in the saved destination path.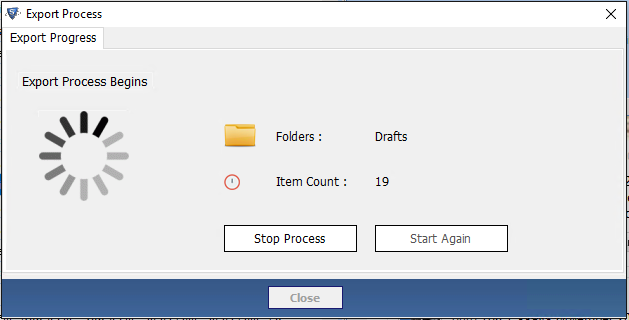 Other than auto-fetch of database, users can also manually select the MBOX file of Netscape Mail and add it into the software. For this step, it is necessary to know where Netscape Mail stores its data.
What is Default Location of Netscape Data File?
The default location of MBOX file storage in Netscape email client which can also be auto detected by Netscape to Outlook Tranfer wizard is:
C:\Users\User Name\AppData\Mozilla\Profiles\
C:\Documents and Settings\User Name\Application Data\Mozilla\Profiles\
C:\Windows\Profiles\User Name\Application Data\Mozilla\Profiles\
C:\Windows\Application Data\Mozilla\Profiles\
On Mac: Library > Mozilla > Profiles >(Account Name) > XXXX.slt > Mail > (mailbox folders)
The mailbox files are either .mbox or the ones without any extension. Such as simple Inbox file.
Conclusion
Netscape email client uses MBOX file format for data storage. The import-export add-in is available for importing or exporting emails from Netscape. However, even that does not support PST format. Hence, users who need to transfer Netscape to Outlook must convert the emails into PST format using professional tool. We have mentioned a trustworthy app for the same. It can easily import Netscape Mail to Outlook PST without losing attributes.