Easy Steps for Exporting SeaMonkey to PST for Outlook Email Client
Switching from SeaMonkey to Outlook? First convert the SeaMonkey Mail to PST then import the PST files in MS Outlook.
Basic Introduction to SeaMonkey: SeaMonkey is a free email client which comes in an open source internet suite. SeaMonkey was created in 2005 by Mozilla foundation which was later taken by SeaMonkey Council for its development. SeaMonkey comes with several constituents which includes a web browser, an email client, news client, HTML editor and IRC client. However, now it is shadowed by Thunderbird although still available as an open source application.
Why Convert SeaMonkey to PST Format?
SeaMonkey creates MBOX files which can be imported to another email client having the same format. Such applications are Thunderbird, Apple Mail, etc. However an email client like Microsoft Outlook that works with PST file format does not support this file format.
Therefore, users who want to switch from SeaMonkey to Outlook are having difficulty to transfer emails between them. Neither Outlook nor SeaMonkey provides any method to siwtch between them.
Such situations require the intervention of software applications that can convert SeaMonkey to PST. Since Outlook has a native option to import PST file, it is quite easy to read SeaMonkey emails in Outlook after conversion.
What is Default Location of SeaMonkey Data File?
SeaMonkey uses MBOX file format which is also used by other mail clients and it creates individual IMAP mail, email and News folders. The file is stored in a different directory whose location is given by:
C:\Documents and settings\Administrator\ApplicationData\Mozilla\SeaMonkey\Profiles\xxxxxxxx.default\
The location of the mailbox files for each account can vary. To locate them efficiently, you can do the following:
Start SeaMonkey mail client
Highlight the email account
Click View Settings for this Account option
Click Server Settings
Go to Local Directory and copy the file location
Open this location on your system. This is where you will find multiple MBOX files (no extension files) and SBD folder(optional).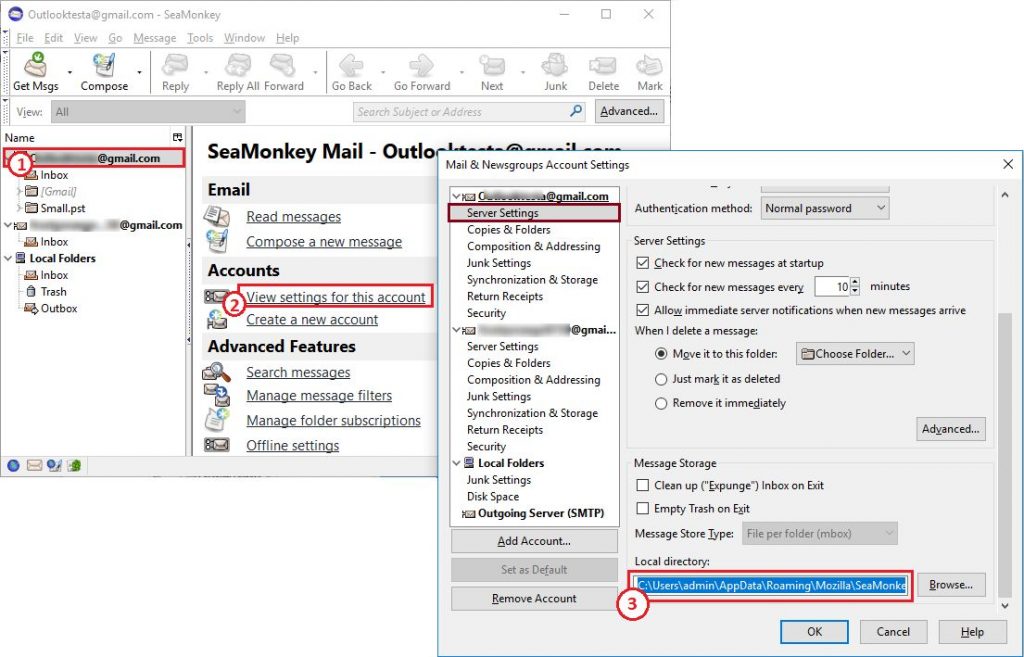 How to Convert SeaMonkey files to Outlook PST format?
MBOX to PST converter is a tool that specilaizes in converting no extension MBOX files of SeaMonkey to PST files. It uses 3 simple steps i.e., ADD, PREVIEW & CONVERT. Users can choose multiple features while converting the SeaMonkey files into PST format. The Unicode PST files are then easily readable in MS Outlook 2019, 2016, 2013, 2010, 2007 & 2003.
Simple Steps to Export SeaMonkey Mail to PST:
Step 1: Click "Add File" on the SeaMonkey converter.
Step 2: Select "SeaMonkey" and click "Next".
Step 3: Preview the emails before conversion to PST.
Step 4: Select "PST" and click "Export" to convert SeaMonkey emails.
Note: There is no need to look for SeaMonkey MBOX files. If the SeaMonkey email client is cofigured in your system, then the software can easily fetch all the accounts data directly from it.
For more detailed steps, follow the working steps with screenshots below:
1. After launching SeaMonkey to Outlook Converter, click Add file option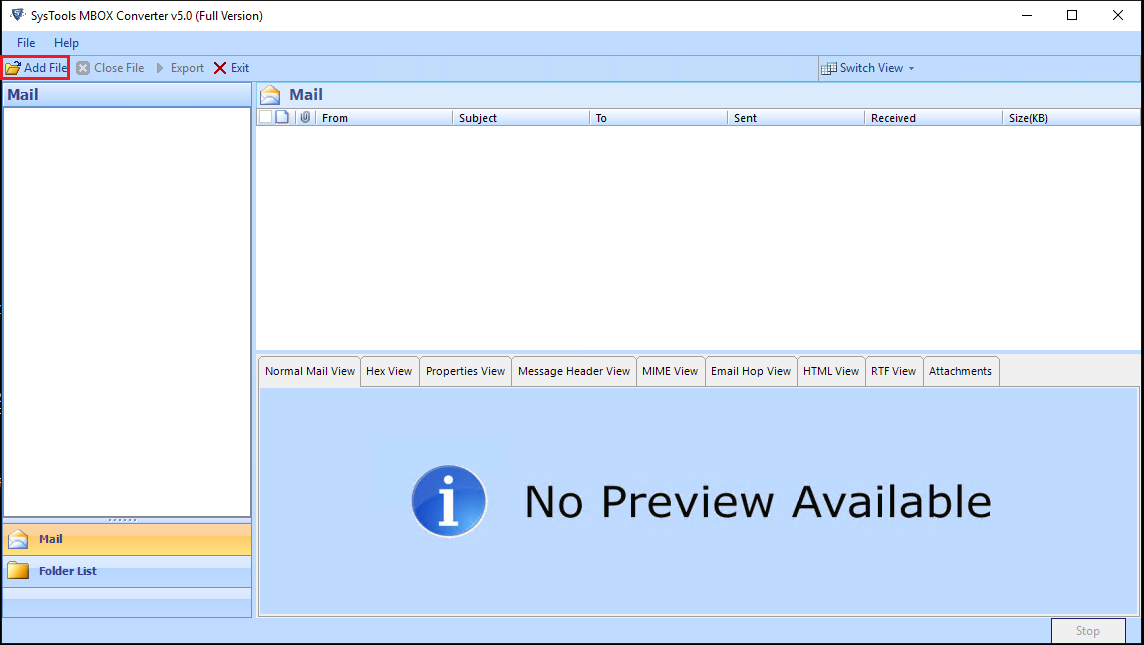 2. Select the SeaMonkey email client from the list and choose Default Profile Configured option. It will automatically fetch the SeaMonkey database for conversion.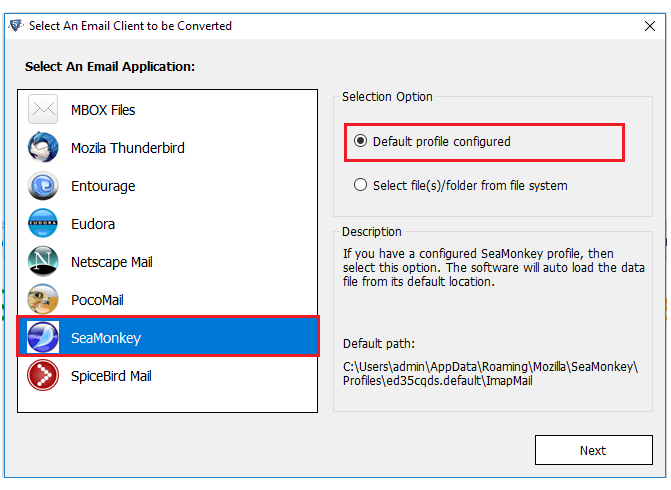 3. Another option is to choose Select file/folder from local system option. This option requires you to browse MBOX file of SeaMonkey.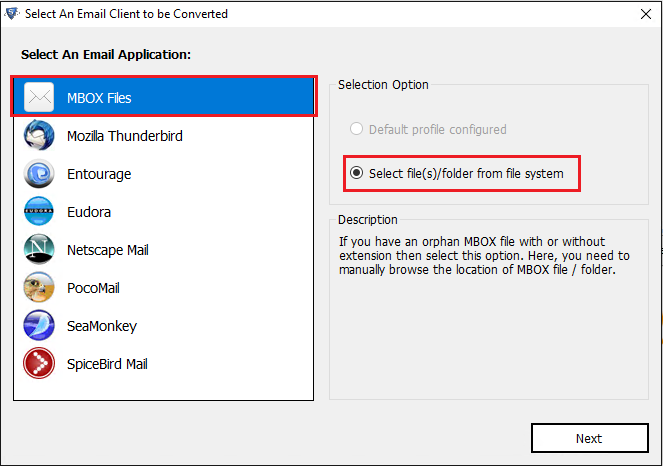 4. After doing quick scan, the tool previews all emails along with the attachments. Multiple views with switch view mode option of SeaMonkey to PST Converter describes the email in details.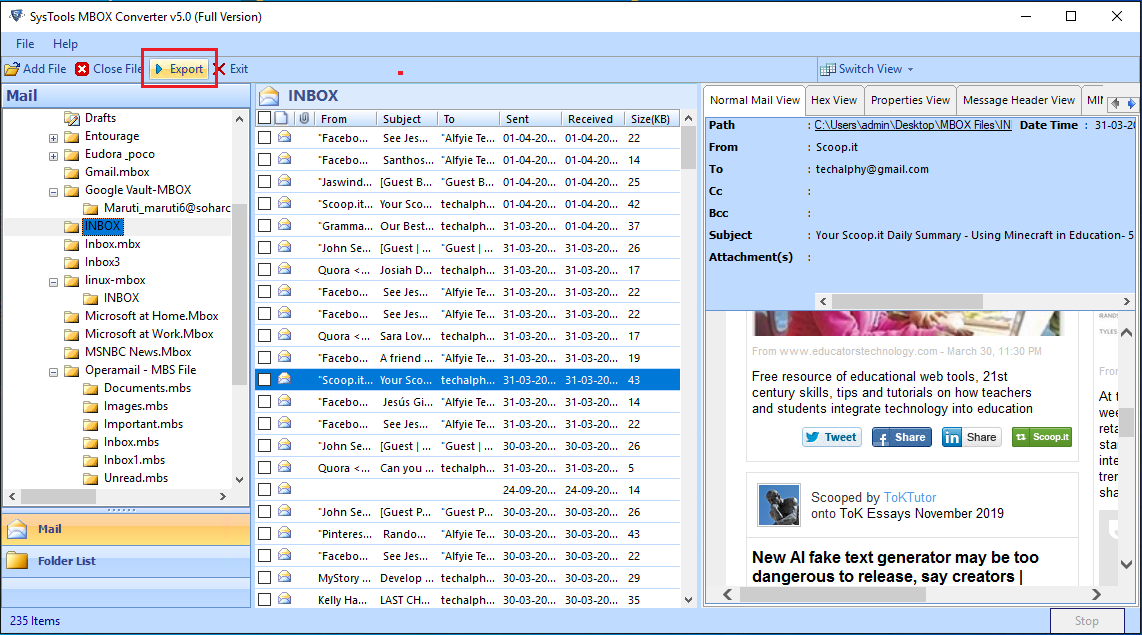 5. Select all folders or choose from specific folders on Export Options tab. Choose the PST option for converting SeaMonkey file to PST by giving destination path.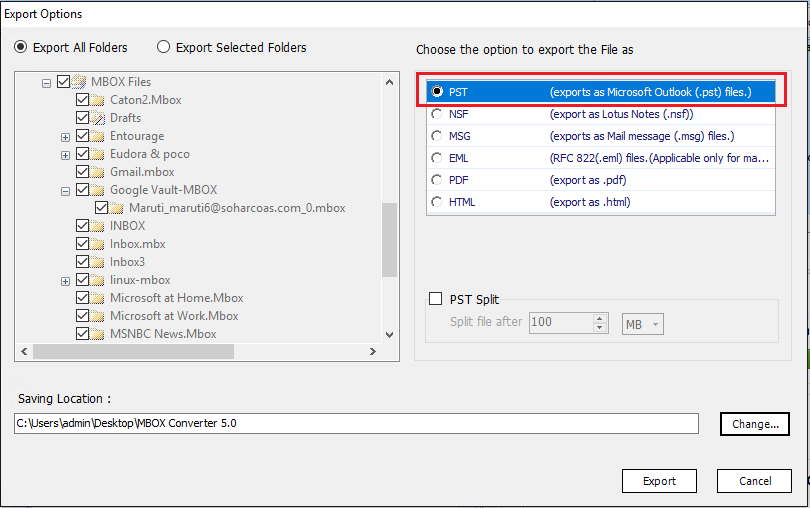 6. Click on Export button to start the Export Process. You can check the converted PST file in the saved destination path.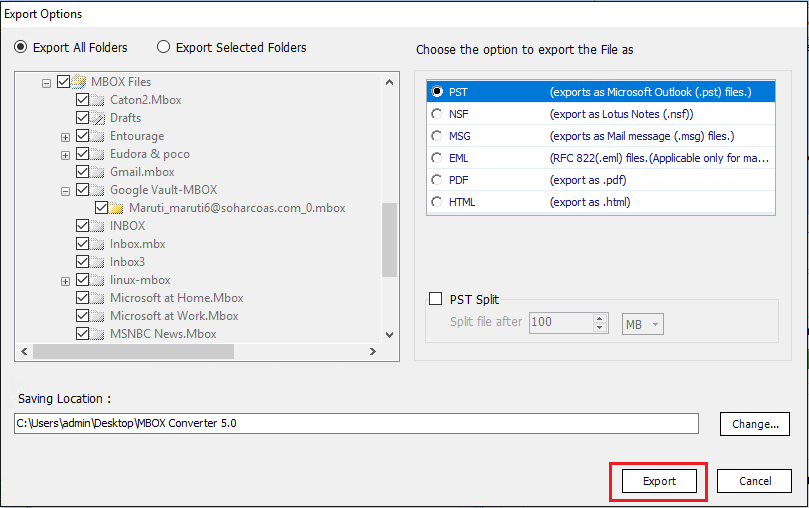 Once the files are imported in Outlook, you can view all the Sea Monkey emails without any issues.
Free Version Available
The free version of the software to convert SeaMonkey to PST is also available for users. It can be downloaded and used to export 25 emails per SeaMonkey mailbox file into PST format. The complete working of the tool can also be checked with this free demo version.