How To Import Thunderbird to Outlook 2013 PST File – Top 2 Methods
Explore the simple methods to import Thunderbird file to Outlook 2013. Other than that, the method also applies to Outlook 2019, 2016, 2013, 2010, 2007 & 2003.
Elementary Foreword Of Mozilla Thunderbird: Mozilla Thunderbird is a free and multi-platform email client introduced by Thunderbird. It supports both IMAP and POP standards. Apart from being an email client, Thunderbird is a news feed and chat client. Its default or vanilla version is not a personal information manager, but Mozilla Lightening extension adds this feature to it. Also, you can use add-ons to get additional features with Thunderbird.
How To Import Thunderbird To Outlook?
There are two methods to convert Thunderbird emails:
Method #1: Manual Method
Method #2: Automatic Method
Read them both and choose the method that suits your needs.
Method #1: Manual Method to Convert Thunderbird Emails to Outlook
Alert: This manual method is optimum for exporting fairly low amount of data. The larger the exported data, the more time it consumes and the more risk of data loss. For transferring large Thunderbird mailboxes to Outlook, opt for the method 2.
Run Mozilla Thunderbird, right-click and create a new folder in one of your email accounts.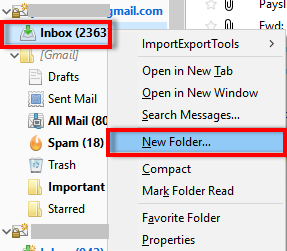 Now, open a mailbox folder, select all the emails you want to move to Outlook and copy them into this new folder.

Now, select the copied emails from the New folder and right click on them to choose Save as option.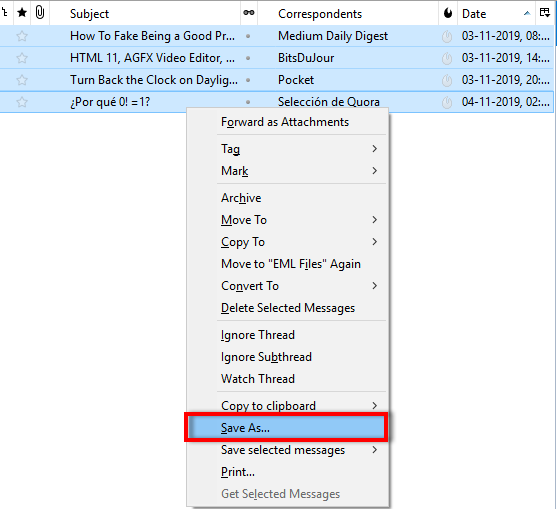 Save the files at a preferred location on your system. Multiple EML files will be created.
Now, open MS Outlook and create a new folder in your email account and open it.
Drag and drop the Eml files from the system location onto the middle pane of Outlook folder.
Let Outlook process all the emails. Congratulations, all the email files are successfully imported from Thunderbird to MS Outlook application.
Method #2: Automatic Method to Import Thunderbird Mail to Outlook
Since the manual procedure available to convert Thunderbird Mail to Outlook is quite lengthy and prone to data loss, professional tools have become a necessity. A trustworthy tool like MBOX to PST converter is best suited for this purpose. It is an efficient migration tool that converts MBOX files of email clients like Entourage, SeaMonkey, and Thunderbird to Outlook PST. With this tool you can easily import Thunderbird Mail to Outlook 2013 as well as into other versions of Outlook.
Thunderbird file to Outlook PST conversion process can be carried out with the following steps:
Launch the conversion app on your Windows PC and click the Add File button from the ribbon bar.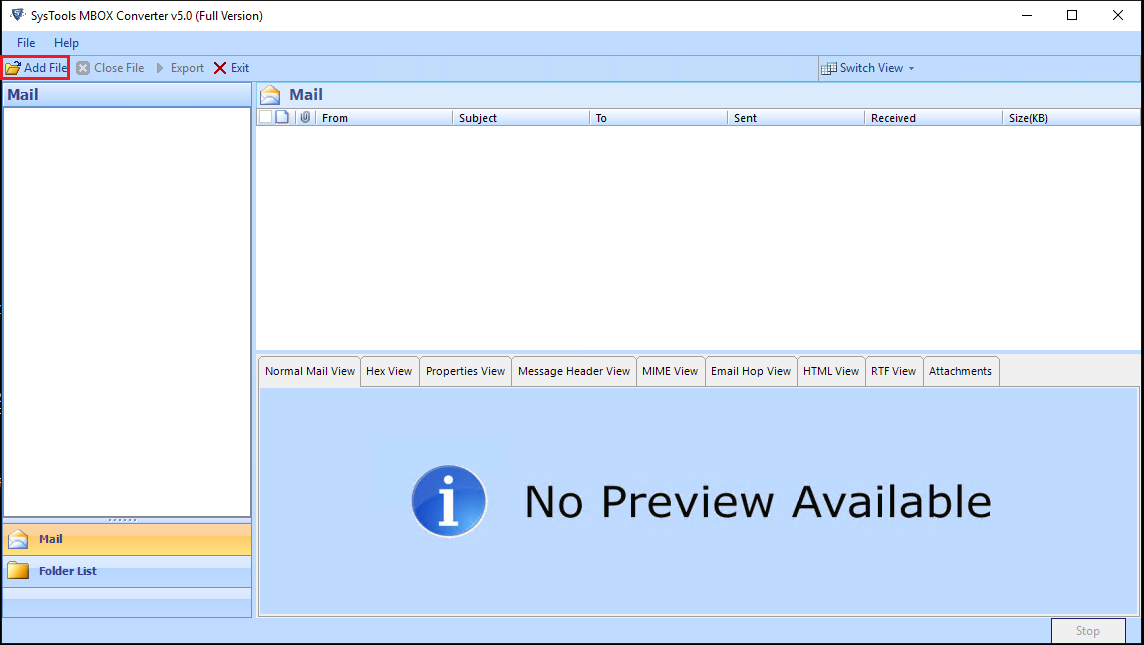 Now, select the Thunderbird option if you have an already configured Thunderbird account and proceed to import its database automatically into the software.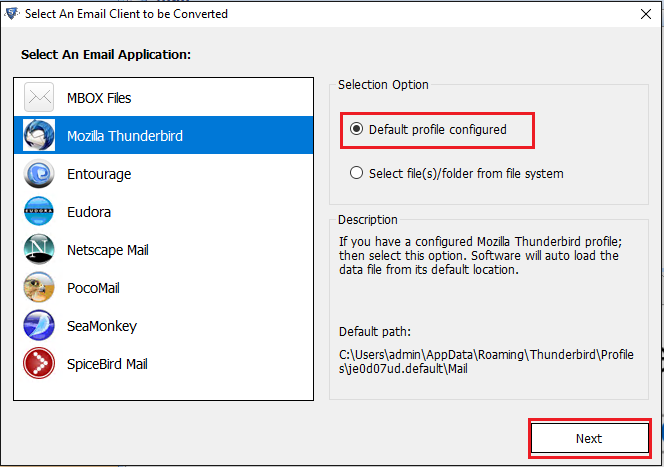 Note: For those who want to add Thunderbird MBOX files manually, click MBOX option instaed of Thunderbird to browse the MBOX files stored in your system. You can either select a file or a folder for conversion. After adding the files, click on Process button.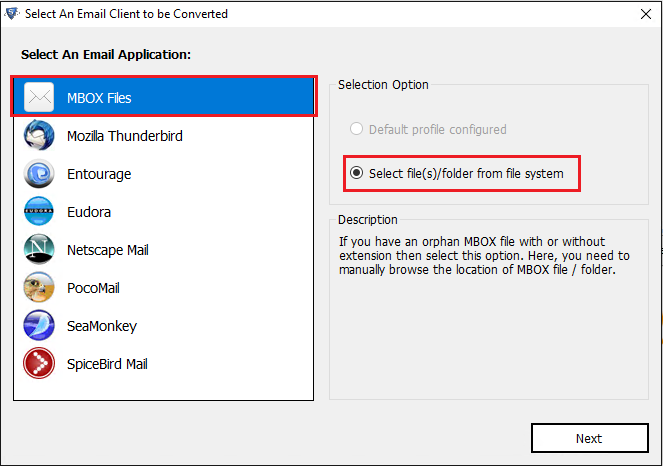 The tool scans the added file and folder and gives a preview of all the components. You can view the emails in both vertical and horizontal views. Click the Export button at top.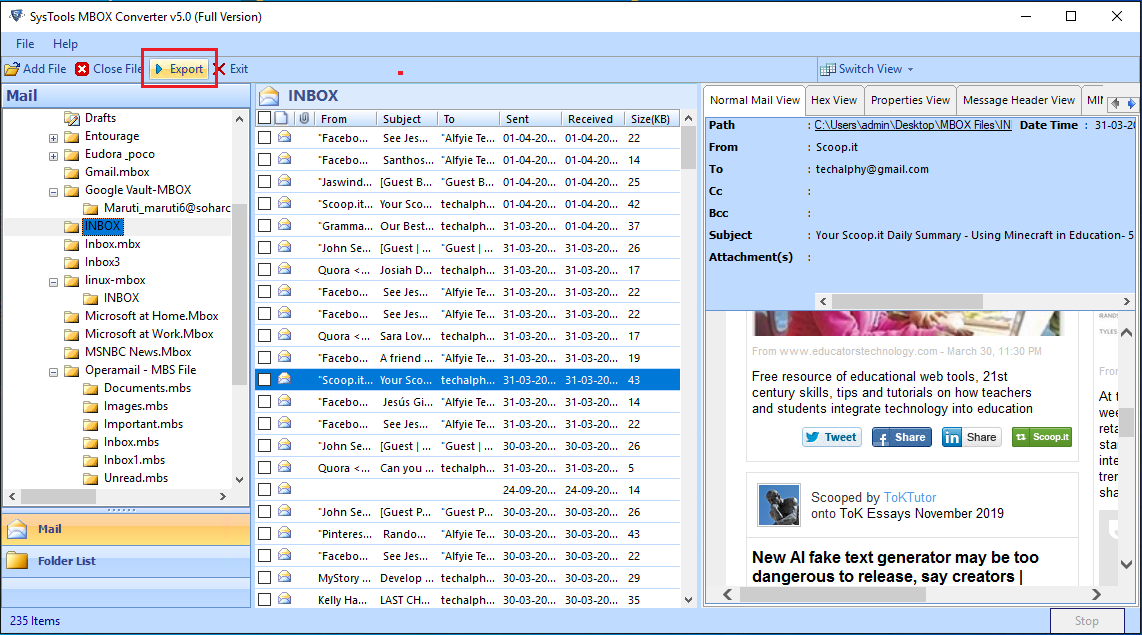 The Thunderbird to Outlook converter tool give you an option to export all or selected files. Choose PST and click Export button to proceed.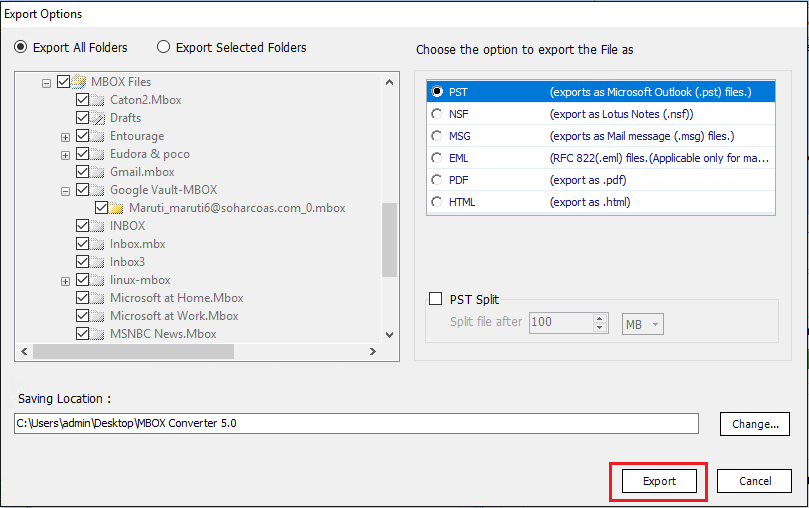 The software will start converting emails from Thunderbird to PST format. An export report is generated at the process completion.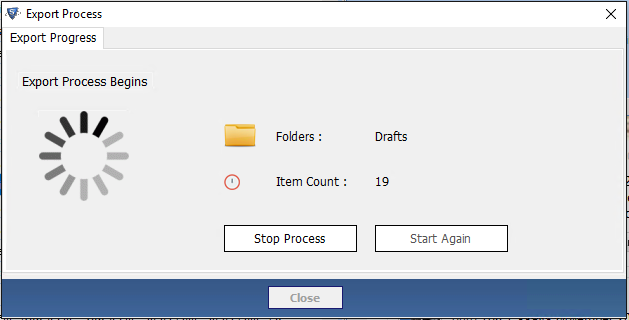 Once all the emails are successfully converted to PST, users can import PST file to Outlook
using the native import/export feature of Outlook.
File Formats Used by Mozilla Thunderbird and Their Default Location
There are two important file formats available in storage. One is with an extension which is .msf and one is without extension. File without extension is the main storage MBOX file, which is relevant for exporting data;
mbox: It is the main storage file which stores strings of concatenated emails with all emails of a mailbox in one single file. It has no extension.
msf: Mail Summary File also known as .msf is mere an index file. It has no relevance during conversion.
The default location of mailboxes can be found in profiles at:
For Windows 2000 & XP: C:\Documents and Settings\Windows user name\Application Data\Thunderbird\Profiles\Profile name
For Windows 7 & above: C:\Users\Windows\username\AppData\Roaming\Thunderbird\Profiles\Profile name
Wrapping Things Up
Mozilla Thunderbird and Outlook has a fierce rivarly in the email client market. Every relevant internet forum has a query regarding Thunderbird to Outlook migration or vice versa. With that in mind, we explained top 2 methods to import Thunderbird Mail to Outlook. The first one requires manual intervention and is great for transferring small amount of data. While the second method is an automatic app that converts Thunderbird to Outlook PST regardless of the mailbox size. You can choose any of the given methods.