How to Import Webmail to Outlook by Converting Emails to PST
Are you using a Webmail email client like Horde, Roundcube, etc. and decided to convert its mailbox to Outlook? Import Webmail to Outlook by converting Webmail emails into PST format.
A Brief Introduction to Webmail: Webmail is web-based email client that is executed as network applications and runs on domains. Some of the popular webmail clients are Horde, Roundcube, SquirrelMail, MailEnable, and SmarterMai. Most Webmail clients are used by hosting service providers such as Bluehost, Hostgator, etc.
The main advantage of using Webmail client is its ability to handle messaging, calendars, tasks, and notes along with the basic functionality to send and receive emails.
Still, few users are inquiring how to convert Webmail to Outlook to be able to access the database in MS Outlook app. For such users, we will provide a simple procedure to export Webmail to PST for Outlook 2019, 2016, 2013, 2010, 2007 & 2003.
Data Storage And File Format Supported By Webmail!
Webmail does not save data on the local system, instead it saves all email files on the respective server of clients for which they are subscribed. However, it provides option to export all emails as MBOX file. These files can then be converted from Webmail to PST and later imported in Outlook.
Services that use Webmail clients such as Hostgator, mostly offers three webmail clients that include Horde, Roundcube and SquirrelMail. Amongst them only Horde allows exporting of emails as MBOX files that can be further used to convert into Outlook PST.
For exporting the data from Webmail, log in and follow under mentioned steps:
Use Horde webmail.
Right click on the folder you want to export as MBOX and choose 'Export' from the list of options.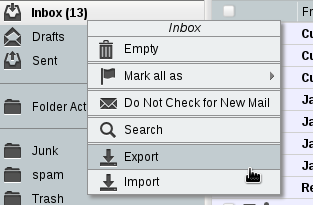 This will provide options, whether you want to download uncompressed MBOX file or in compressed form. Choose the appropriate option and click on 'Ok'.

Once the export process is over, users can use this MBOX file in the next section for conversion.
How To Convert Webmail To Outlook PST?
As there is no direct way to convert Webmail into Outlook PST format, users have to rely on commercial tools like migrate emails data. MBOX to PST converter is embedded with advance scanning and data conversion techniques to convert bulk Webmail emails into PST format.
Follow 5 Easy Steps to Import Webmail into Outlook:
Run the converter tool and click Add File.
Import Webmail MBOX files in the software.
Preview all Webmail emails before conversion to PST.
Click Export to convert Webmail emails to Outlook PST.
Import PST files in MS Outlook app.
For a better understanding of the working, you can take a look at the following instructions and screenshots:
1: Download and install software in machine and click the "Add File" button on the welcome screens of the software.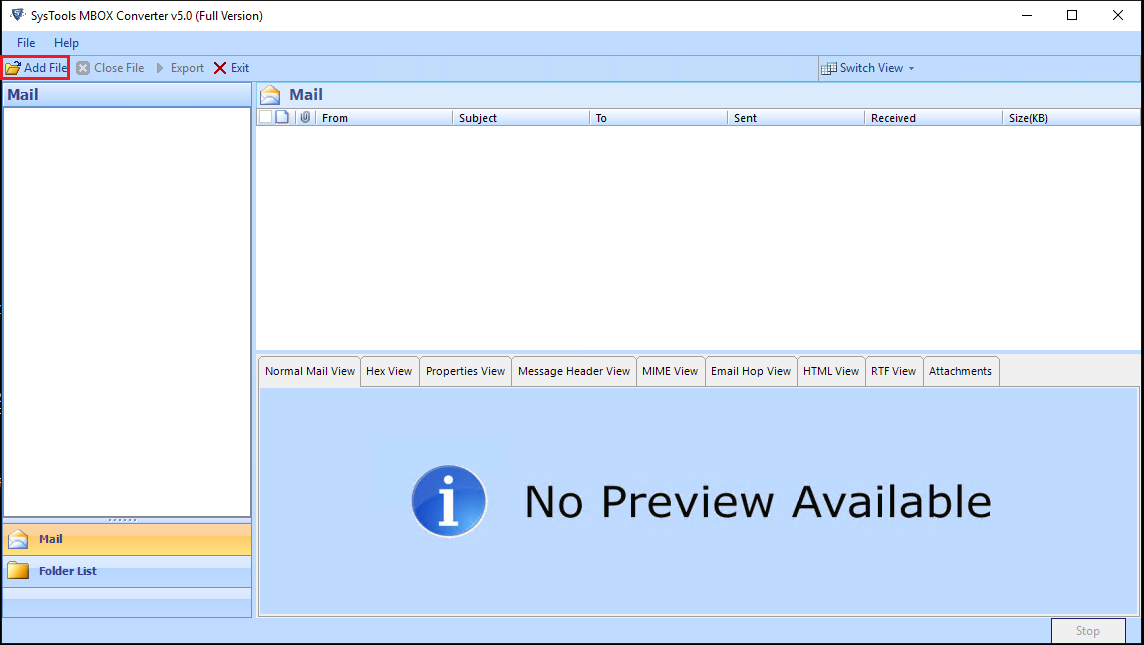 2: Now, select "MBOX file" option and hit the "Next" button.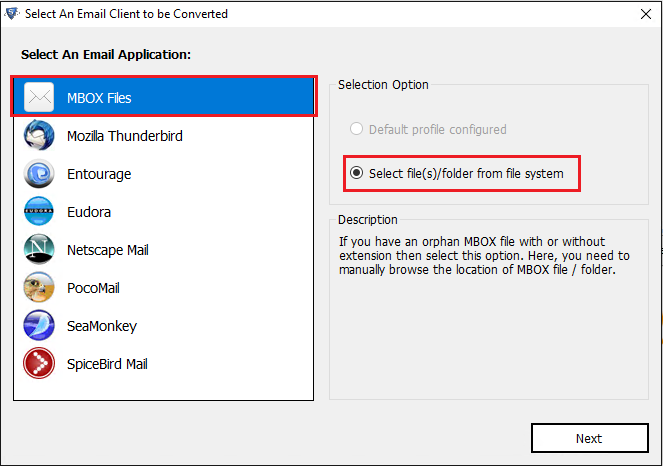 3. Browse the Webmail MBOX files saved on the hard drive and click on "Process" button.

4: Users can preview of the emails of the added files along with details. Click the "Export" option from the ribbon bar to proceed ahead.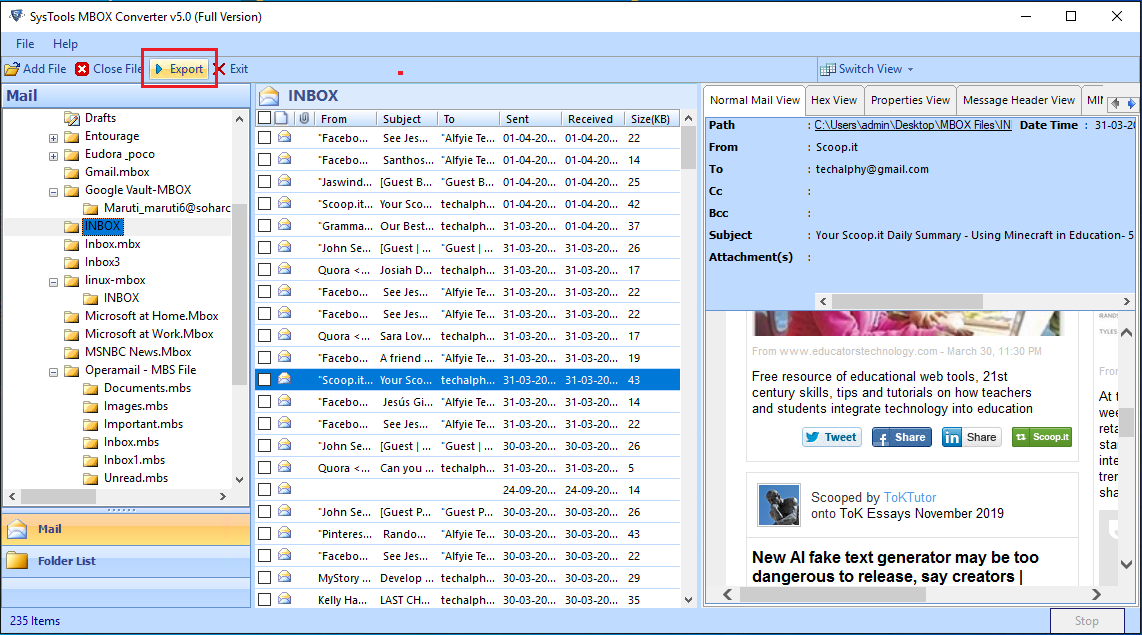 5: Choose the file format "PST" from Export options and provide destination location to save PST files in system.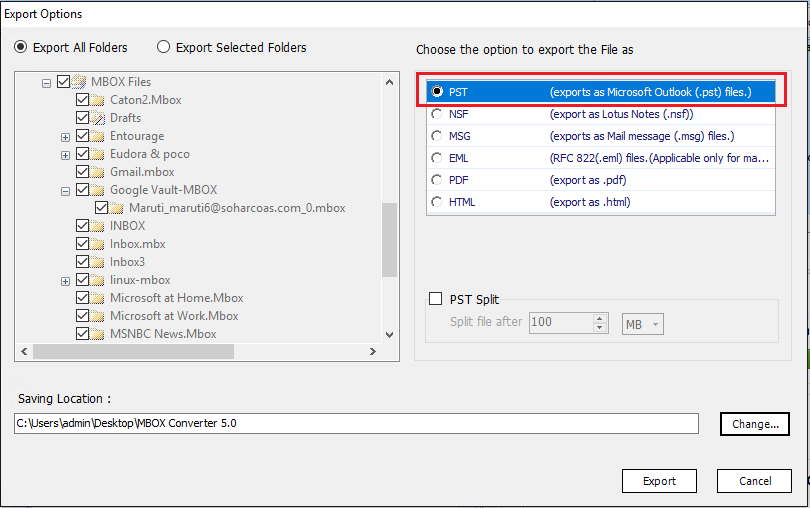 6: Click Export button to start converting emails from Webmail to Outlook PST file format.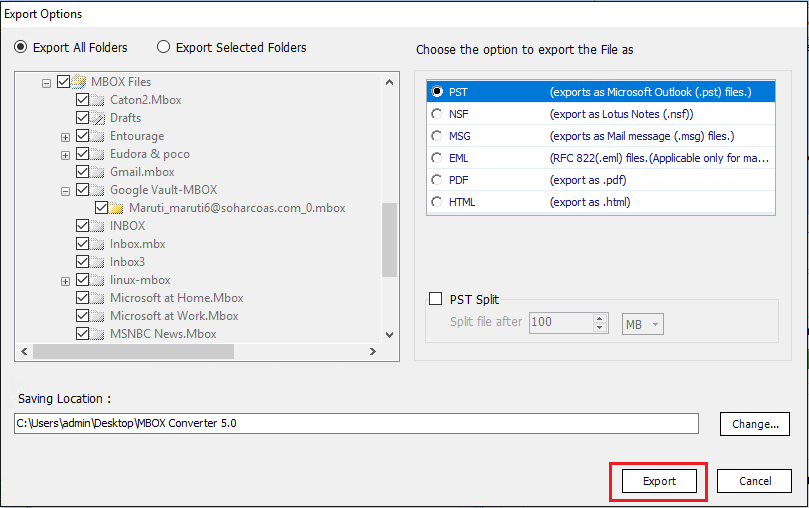 The process solves a common query- how to convert Webmail into Outlook and make users able to access their Webmail emails in MS Outlook app. In this way a user can easily download emails from Webmail email client and import them in Outlook without losing a single detail.
Why Users Import Webmail to Outlook?
Due to some considerable drawbacks of Webmail, users are inclining towards to accessing the mailbox data in the popular MS Outlook email client. The main drawback of Webmail is its dependability to internet while using. Users cannot access emails or work on offline mode while working on Webmail. MS Outlook provides option for users to work in offline mode and offers to save data on server as well as on local system as per requirements.
So, one needs to import Webmail to Outlook to be able to access all the emails of Webmail regradless of network connectivity. The familiar interface of Outlook and its ease of usage is also a reason as to why a person would avoid Webmail email client and work on MS Outlook.
Wrapping Things Up
There are a number of popular webmail email clients in use today. To access one's webmail data in Outlook, one must export the messages from the Webmail email client. App such as Horde wemail provides that feature by allowing exporting of mailbox in MBOX file. Once the files are exported, simply convert Webmail to PST and import them in Outlook. This is how one can easily import Webmail to Outlook email client.